America-based Ghanaian pastor arrested for engaging in illegal mining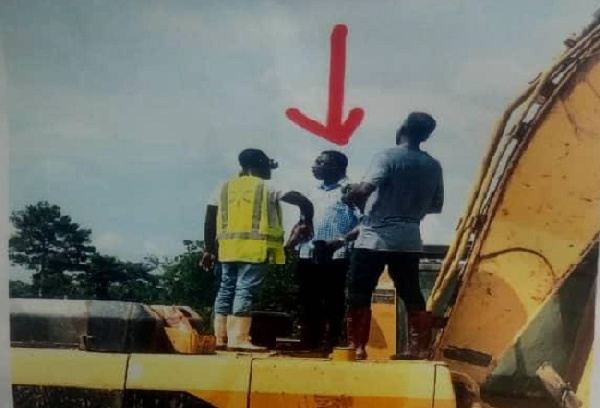 An American-based Ghanaian pastor, Kwaku Gyabi has been arrested by the Twifo Praso District Police Command for engaging in illegal mining activities at Pewudie in the Twifo Attimorkwa District of the Central Region.
Pastor Gyabi was also accused of dangerous and life-threatening conducts as he keeps armed men at the mining site to intimidate and obstruct officials of the Minerals Commission and other officers from performing their regulatory duties.
He also verbally abused the Minerals Commission officials in one of their encounter with him at the mining site.
His activities, according to the Minerals Commission are environmentally unfriendly and risky to the lives of the neighboring community members.
A petition written by the Minerals Commission dated July 18, 2023, intercepted by Angel News revealed the suspect together with his armed men vehemently resisted the order of the commission to stop working on the site, however, they fiercely drove them out of the site.
Parts of the petition reads; "We did not observe any provisions made by the perpetrator to reclaim the mined-out portions of the site. His activities are not environmentally friendly and pose a risk to the lives of the members of the neighboring community members".
"According to our records, the suspect has two concessions at Mintaso (GMA Gyebi Mining Enterprise and Eastside Precious Mining Enterprise) however, he is currently working outside the confines of his allocated concessions and has no mineral rights over the site he is mining."
The report also indicated Pastor Gyebi also victimizes and chases away prospective concessionaires from their respective sites by forcefully claiming to own areas that do not belong to him.
The commission's petition was signed by the Acting District Officer of the Minerals Commission in Assin Fosu, Mr. Charles Zantione and was copied to the Central Regional Minister, Paramount Chief Twifo Attimorkwa, Police Commander Twifo Praso and the Chairman of the Small Scale Miners Association.
Ghana Minerals Commission's petition which led to the arrest of the suspect.
It therefore implored to them treat it with utmost urgency in order to clamp down on the illegality and ensure Pastor Kwaku Gyebi face the consequences of his behavior.
Two excavators have been conveyed by the police
Source: www.ghanaweb.com