Accident on Accra-Aflao Highway claims 8 lives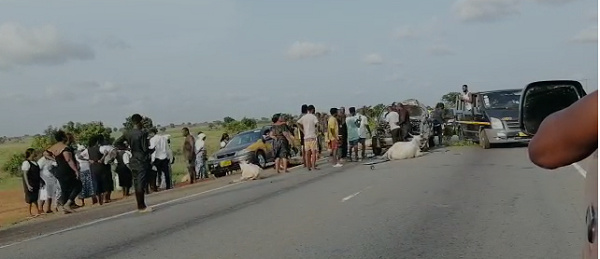 A collision on the Accra-Aflao Highway today, Friday, August 18, 2023, is thought to have killed eight people.
According to the information available, the accident occurred after a commercial driver identified as Michael Abgorglah, 37, attempted an overtake.
The commercial bus, registered GE- 5395-23, was carrying 15 passengers from Accra to Aflao.
He allegedly tried to overtake a Cargo vehicle ahead of him at the SKY Quarry junction on the Tema-Aflao route but collided with another Cargo with registration number AS- 6031-N that was going from Aflao to Tema.
Some injured passengers were taken to the Dowanya and Tema General Hospitals.
The deceased persons were taken to the Tema General Hospital mortuary for preservation.
Michael Abgorglah, the accused driver, was apprehended, cautioned, and released to his brother to be driven to the hospital.
Source: rainbowradioonline.com