5 Ghanaian footballers who never shy away from flaunting their Christian belief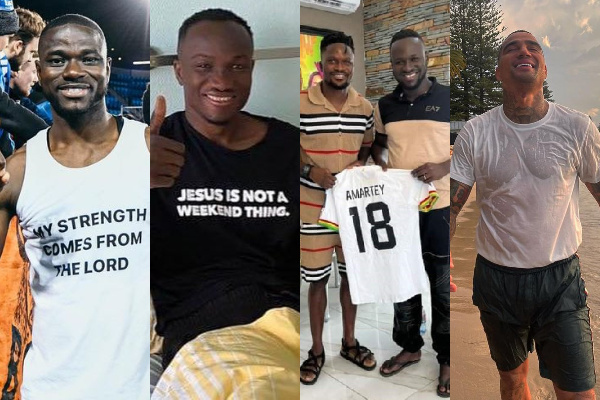 In the world of football, talent often shines on the pitch, but for some players, faith is a guiding light in their lives, both on and off the field. It's no surprise that you will find a good number of footballers who also profess to be Christians.
Ghanaian footballers have not only made their mark with their skills but have also drawn inspiration from their deep Christian beliefs.
Some of these players often demonstrate their love for God in the national team and often off the pitch with their generous acts.
Today, we look at five popular Ghanaian footballers who are devout Christians.
Kevin-Prince Boateng
K.P. Boateng lived a large life as a player and often did not hide it from the media. His career took him to top clubs across Europe, playing for clubs like Barcelona, AC Milan, Portsmouth, Fiorentina, among others.
Recently, after calling time on his career, K.P. Boateng shared that he has become a born-again Christian and has devoted his life to God.
His recent public declaration of embracing Christianity and baptism is a testament to the spiritual journey he has embarked upon.
Raphael Dwamena
The Ghanaian striker has been a strong advocate for the Christian faith. Whether on the pitch or off the pitch, Dwamena would often demonstrate his love for God with Bible scriptures. His unwavering belief has helped him overcome challenges both in his career and personal life.
Three years ago, Dwamena was diagnosed with a heart condition while on loan at Real Zaragoza and was told he would not be able to play football again. However, his faith in God kept him, and he stated that "I am never afraid. God is with me." The striker currently plays for Albanian club Egnatia.
Emmanuel Boateng
The former Levante forward has never been shy about sharing his Christian faith. For someone who toiled and fought his way out of poverty to become a professional player, Boateng has always kept his faith in God.
Off the pitch, the player uses God-given talent as a musician to spread the gospel. In 2018, the Black Stars player released a song titled "Oluwa."
Daniel Amartey
Known for his versatility and commitment on the field, Daniel Amartey also stands out for his devout Christian beliefs. He often shares the word of God with his followers on social media, with his favorite scripture being Psalm 91. For Daniel Amartey, having a close relationship with men of God is key to his success, and it's not surprising that he has a close relationship with popular Alpha Hour pastor, Elvis Agyemang.
Jonathan Mensah
The central defender is another ardent believer in Christ. The former Columbus Crew defender, who has represented Ghana on the international stage, is known not only for his defensive prowess but also for his strong Christian faith.
Mensah demonstrates his love for God by often giving back to the less privileged through his foundation. He also uses his social media accounts to spread the gospel with his followers.
Source: www.ghanaweb.com