The late Kofi B's brother bathes musician's tomb, netizens react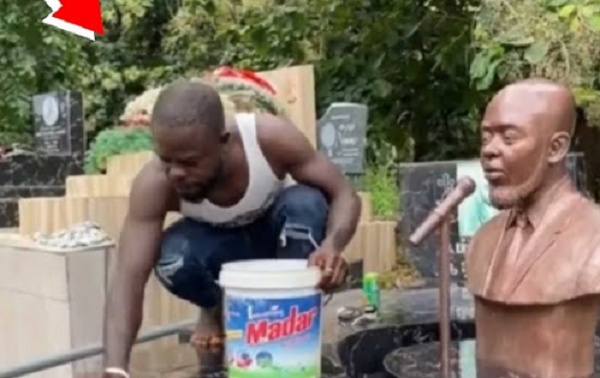 It's been three years since the demise of the highlife musician and his brother volunteered to fix the dirt and unkemptness at his graveyard in the Agogo public cemetery.
In a video making waves on social media, the young man was seen rigorously cleaning the tomb with water and a sponge while stating his reasons for doing so.
In the said video, he went all the way to a nearby stream to fetch some water which he used for the cleaning.
He also dug out the weeds around the tomb and shoved off the rubbish which gathered around it.
"I am the late Kofi B's brother. I came to visit my brother and I decided to do this because his tomb was looking unkempt. Kofi hated dirt when he was alive. so, I decided to do this. Sometimes people come here and take pictures and it doesn't look presentable in this state. I blame death for all this. Death is wicked," he stated while doing the job.
At a point, he sang Kofi B's 'Mobrowa' song, expressing pain and bitterness.
This development has stirred reactions from some celebrities including the likes of Appietus, Gloria Sarfo, Emelia Brobbey, Funny Face, Akumaa Mama Zimby, and several others.
It can be recalled that Kofi B's brother, who has a striking resemblance with the late Highlife musician, became popular after his live band performance at the funeral went viral sometime in 2020.
Watch the video below:
Source: www.ghanaweb.com