Mixed reactions as Gambia beats Nigeria to win best jollof 2023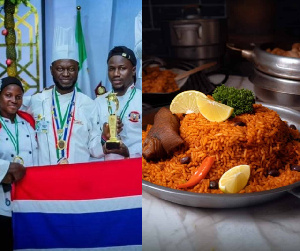 Jollof rice fans worldwide have taken to social media to share their thoughts about The Gambia emerging winners of the 2023 Jollof competition at the West Africa Food Festival held in Lagos, Nigeria.
The competition, which ran from August 9-14, saw the winning team, led by the award-winning Chef Saikou Bojang beat 15 other countries including Nigeria, Ghana, and Liberia to emerge champions.
WAFFEST featured four master classes, food and wine tastings.
Reacting to The Gambia's win, tweeps have taken to the social media platform X to share their thoughts about the competition.
While some celebrated The Gambia's win, others expressed their disbelief at their win.
Ava Dadonness tweeted, "The Gambia is the champion of Jollof!!! Now Nigeria, Ghana, and Liberia can hang it up."
Thatmarieaj, "I worked with Chef Bojang @SenegambiaHotel, and he makes a mean meal Well done team Gambia ."
Hussain Dada, "I don't wanna hear no more JOLLOF RICE debate on this app ever again! Gambia leads the way. Nigeria and Ghana in the mud."
Rachel Renee, "So Gambia took 1st place in the Jollof Rice Competition in Lagos?! I know my people having a fit."
Sheabuttaqueen wrote, "The jollof from another country other than Gambia and Senegal doesn't compare."
Amie Bright also tweeted, "The Gambia stays winning this Jollof rice competition, 3 times in a row gotta mean something ukno. The small population is our only problem that's why we're not out there!! Lol smh."
HelloPrincess, taking a jab at Nigeria and Ghana's jollof skills, tweeted, "Ok so Gambia won the best jollof rice competition. Nigeria & Ghana need to stop yapping now."
A few other tweeps also joined in on the conversation, expressing disbelief at The Gambia's win thus:
Ciatta Doe, a Liberian, tweeted, "The Gambia beat Liberia in a Jollof competition??! FOOLISHNESS."
Obinna. Et disagreeing with the win wrote, "The Gambia taking the top spot in the jollof competition is as preposterous as a fish riding a bicycle. A glitch in the matrix of culinary expectations. Very hard to fathom!"
Queen Etonde, "I think Nigerian Jollof is not even top 3…. Senegal, Gambia, Liberia, and Cameroon are the top 4 (in that order.)"
Eman simply tweeted, "wtf u mean Gambia won the competition for best jollof rice???"
Source: www.punchng.com