Fake Ruger in Kenya performs like Nigerian singer at shows, video causes stir online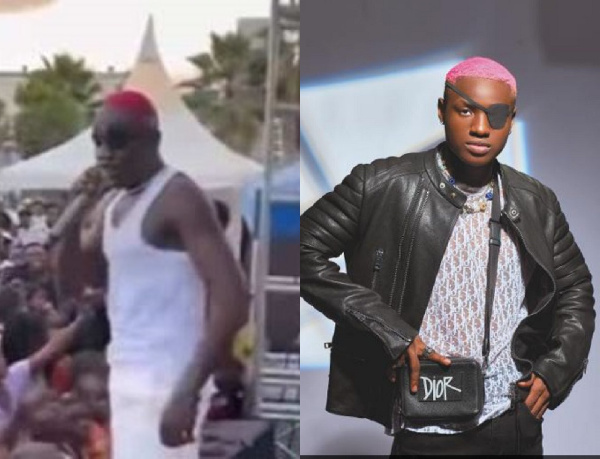 Nigerian singer Ruger would be astonished to learn that someone else in Kenya is using his songs and image to gain popularity and generate money.
An enthusiastic crowd saw a man perform in a viral video who appeared to be the Nigerian singer, complete with pink hair and the same eye patch.
The fake Ruger's performance of the Nigerian singer's songs throughout his performances was the show's high point.
Additionally, he appeared to have studied Ruger's style of performance because he had dancers on stage and a large team at his disposal.
Many others found it difficult to accept that the Kenyan man wasn't the real Ruger, and online community members have pushed the Nigerian musician to file a lawsuit against the imposter.
Read some comments sighted below:
FrTosin: "Damnn….this is crazy tho. Dey take another person shine."
OyakhireTaiye: "Blood of Jesus, see the crowd."
aomi__U: "Why hasn't he been arrested?"
Adeshinadaboss: "Haaa isn't this a criminal offense?"
Iam_enriched: "Are sure this'll no be Ruger himself be this cos the resemblance and performance is just like him."
OyakhireTaiye: "Blood of Jesus, see the crowd ."
SoyoufoundRi: "Is this wrong, he might commit now and they will accuse Ruger. Ruger's management should stop him before it's too late."
Watch the video below:
Source: www.mynigeria.com