Charger Limited Launches New Product 'Black Legend'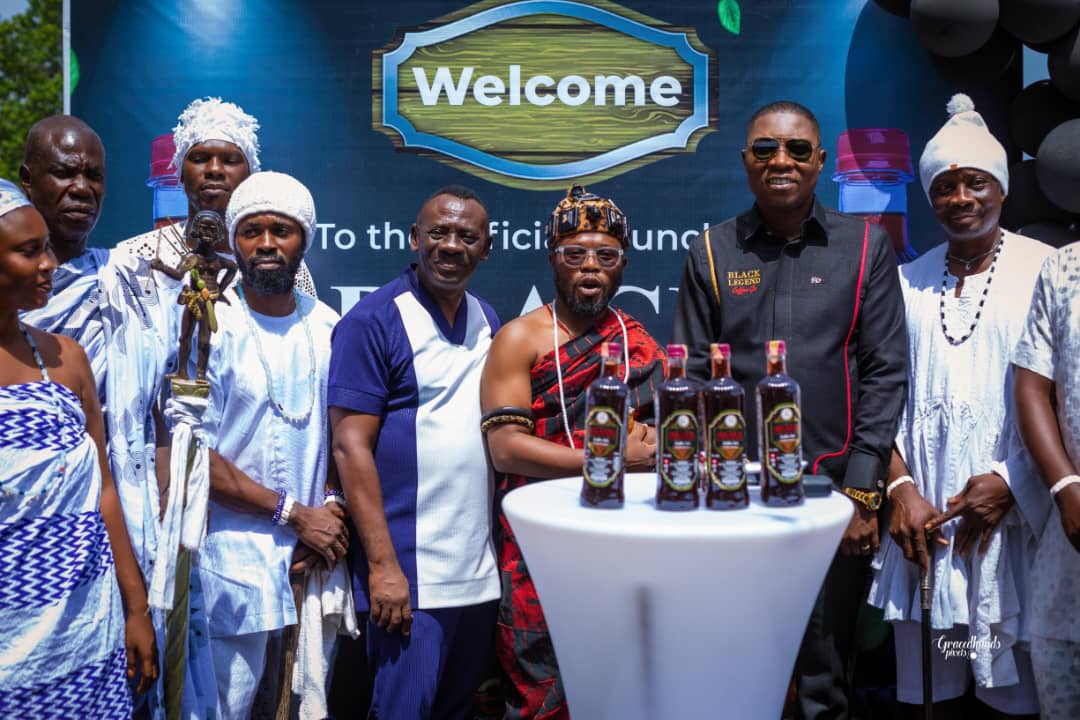 Some Ghana's finest celebrities and media personalities converged under one roof on Monday, 11 September 2023, to celebrate the official outdooring of Charger Company Limited's latest product, Black Legend.
Veteran actor, Akrobeto, actress Nikki Samonas, comedian DKB, ace sports journalist and president of the Africa Armwrestling Federation were but a few of many celebrities who were present at the ceremony to launch Black Legend, a product many have predicted to take the beverage industry by storm.
Delivering a speech at the ceremony, Emmanuel Bortey Borketey, the Chief Executive Officer of Charger Limited provided a historical context to the establishment of Charger Company Limited and the birthing of the Black Legend drink.
According to him, the arrival of the product is a reflection of the dedication and commitment by his company to meeting the refreshment and entertainment demands of Ghanaians.
"We started as a small company with a big dream, introducing our first product, Happy Man Bitters, to the Ghanaian market. That was just the beginning of our adventure, and it is truly heartwarming to see how far we've come since those humble beginnings.
"Our path to becoming a pioneering organization in Ghana and internationally has been marked by sweat, sacrifice, and unwavering commitment. We have strived to craft unique products that resonate with our customers, always aiming for the highest quality and authenticity.
Mr Bortey Borketey touted the nutritional and recreation values of his new product, highlighting some features that distinguish the new alcoholic beverage from existing ones.
He also leveraged on the platform to emphasize the need for people to be measured in their consumption of his product and all alcoholic beverages.
"Today, we proudly present Black Legend Blended Coffee Gin, a testament to our relentless pursuit of innovation. This exceptional spirit is the result of meticulous craftsmanship and an unwavering dedication to excellence.
"It blends the rich, bold flavors of coffee with the sophistication of gin, creating an unparalleled drinking experience. However, as we celebrate this milestone, it is crucial to emphasize the importance of responsible consumption.
Aryeh Ofeibea Akoto, the Public Relations Officer of Charger Company Limited appealed to Ghanaians to embrace the product and ensure continued patronage.
He stated that his outfit will continue to produce products of rich quality and of great value to Ghanaians, particularly patrons.
"As we launch Black Legend Blended Coffee Gin, we remain true to our roots while reaching for new heights. This exceptional product is a reflection of our passion for excellence and our determination to provide unique and memorable experiences for our customers.
"In the spirit of Charger Limited's unwavering journey of growth and innovation, we invite you to join us in celebrating this exciting chapter. Let us raise our glasses to Black Legend and to the future of Charger Limited, a company that started in a garage with a handful of dedicated individuals and has now become a beacon of success in the beverage industry", he said.
The representative of the Ga Mantse who graced the ceremony, vouched for the taste and quality of the product and appealed to Charger Company Limited to ensure consistency.
The were messages of goodwill from the likes of Akrobeto, Nikki Samonas, DKB and other celebrities who commended Mr Emmanuel Bortey for expanding his business which provided opportunities to hundreds of Ghanaians.
The choice of brand name, according to the manufacturers is to recognize and celebrate the accomplishment of black people who strive daily to attain success.