WATCH: Clip of Ijebus invoking spirit of Agemo to avenge Mohbad's death goes viral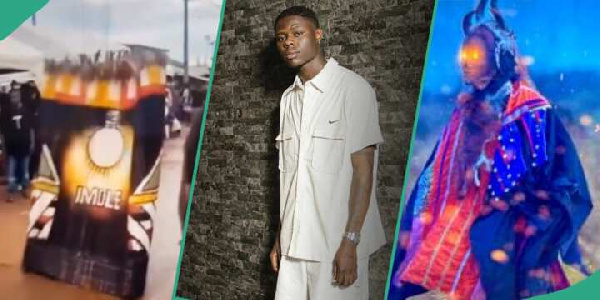 The march to find a deserving justice for young Streetpop artist Mohbad, who recently passed, has taken many turns.
However, the latest clips of people going metaphysical making the rounds online have left many stunned.
A video of some persons in Ijebu invoking the spirit of Agemo to help avenge the tragic demise of young singer Mohbad has gone viral online.
Agemo is an Ijebu deity believed to be the protector and defender of the Ijebu people.
Festivals are usually held annually, accompanied by several rituals to celebrate and honour the spirit of Agemo.
However, it is usually invoked by the Ijebu people to help seek justice when they feel cheated or slighted.
Some clips making the rounds online of the Ijebu people invoking the spirit of Agemo to help seek justice for the tragic demise of Mohbad have sparked reactions online.
Netizens express joy that Agemo has been unleashed to help get justice for Mohbad:
@tontolet: "Fight fight fight fight fight fight fight fight and bring justice for Mohbad."
@unicemami: "I love this AN EYE FOR AN EYE." @kens_arts: "If you believe it would work tap here."
@mariam_oyakhilome: "Same Agemo in Jagun Jagun movie? There was a day i wished that Ikorodu people had Agemo to go f!te Mohbad killers for themI am thinking too far sorry."
@aubiergembock: "Let the POWERS on earth, in the heavens, and in-the-between hear our cries, our voices, our prayers, our thoughts, our grieving hearts. Our unity is our strength and our diversity is our power."
@dmpromakeovers: "I am an Ijebu woman, I live in Ijebu and I can testify to the powers of the Agemo spirit."
@historylovers_001: "Agemo is an unforeseen phenomenon, a supreme deity and high god (orisa) in IJEBU land…"
@sunmisolaa_01: "We need all the forces against his killer their mind will not touch ground."
@amina_danjuma: "They should use their real names for faster results pls.."
@bossladyrantty: All these Shenanigans… Pls channel all this energy to our leaders… Why are we so gullible as a nation… So Agemo doesn't see all the injustices being melted out on a daily basis to us as a citizen…
@__officialfreddie__: "Make that Aboku soro just help us ask moh who k*ll am. So we go know where to channel our energy abi bawo."
Watch the video below;
Source: legit.ng