A suspected arm robber identified as Azeez Akinpelu is among the gang of arm robbers that were recently arrested by the operatives of Nigerian police in Lagos State.
According to Sun Newspaper, Azeez took part in the robbery operation at Mambilliah hotel in Ikorodu area of Lagos state on May 11, 2022.
In the course of interrogations, Azeez who happens to be the only married man among the gang, confessed the police that his wife used to think that he is working over the night whenever he went for robbery operations at nights.
According to him, the harsh economic situation in the country forced him to join the gang. He said he ventured into Robbery in order to take care of his wife and Child.
CLICK HERE TO DOWNLOAD PRESS RADIO MOBILE APP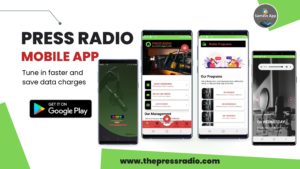 "I am 24 and married with a child. Nigeria is hard and to pay house rent and take care of my wife is very difficult. I decided to make more money after I was introduced to Taye by a friend. His wife did naming ceremony for his son and I was the one who printed on all their souvenirs. I was invited to the event; it was there that I met most of the gang members. I have lost count of the number of robberies that I participated in. It is a way of life and the only way that we know how to survive. I promise to change if I survive this," he pleaded.