'I was here before the Asantehene' – Antoahene on why he enstooled a chief without Otumfuo's approval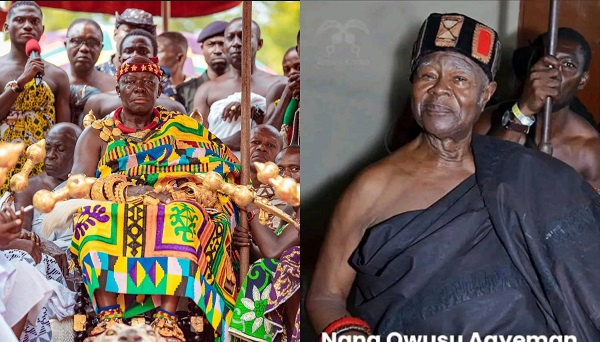 The overlord of the Ashanti Kingdom, His Royal Majesty Nana
Otumfuo Osei Tutu II
 ordered the destoolment of the chief of Antoa, Nana Owusu Agyeman I on Monday, May 29, 2023, at the Manhyia Palace.
According to sources from Manhyia, after a judicial hearing presided by the Asantehene on the same day, the chief of Antoa also known as Antoahene had violated customary procedures by appointing his nephew to take over his reign while he is alive and, in the process, denigrated the Asantehene.
Narrating the sequence of events before the judicial council in his testimony, the Family Head of the family of Antoahene explained that, the Antoahene had earlier explained to his chiefs who opposed his decision to enstool his nephew as chief that, he does not need permission and approval of the Asantehene because he was the occupant of his stool before the Otumfuo was made King of Ashanti.
The family head recounted, "After the Antoahene informed me that he wants to enstool his nephew as Antoahene and empower him to perform all the functions of the Antoahene, I counselled him against it because customarily, it is only the Otumfuo that has the power and authority to delegate such powers to anyone, so let's seek the approval and blessings of the Otumfuo before we make any such move."
According to the Family Head, the response of the 96-year-old Antoahene to him was that he was young and not properly brought up culture-wise.
He added, "The Antoahene said I am a child and that I was not properly trained culturally but he was, that he [the chief] is 96 years old and not a child. He questioned me on what he would do if the Asantehene disagrees. I responded by asking him what would happen should our overlord oppose his decision after he enstools his nephew. I beg to say, the Antoahene indicated the Asantehene would have to explain to him why he does not agree with his decision."
Still on the issue but at a different sitting, the Chief Linguist to the Antoahene reminded the Antoahene that he is chief because the Otumfuo gave him the authority to rule, to which he quickly responded,
"No I was here before he was made King. I am the one who presented him, so do as I have directed. He was then reminded again that in the Ashanti Kingdom, every stool belongs to the Asantehene so he cannot enstool a chief without approval from the King. The Antoahene replied that his chief serve and swore allegiance to him and not the Asantehene, so they should do as he wills. ," the Family Head narrated.
In the Ashanti tradition, all chiefs swore an oath of allegiance to the Asantehene before they can rule as such the deeds. The proclamations of the 96-year-old Antoahene were therefore not only a breach of customary rites but also appeared as a deliberate attempt to undermine the authority and power of the Asantehene for which he was destooled.
Watch the judicial hearing here
Source: www.ghanaweb.com