Election 2024: Fix the Bogoso Prestea road – Angry Prestea residents pokes government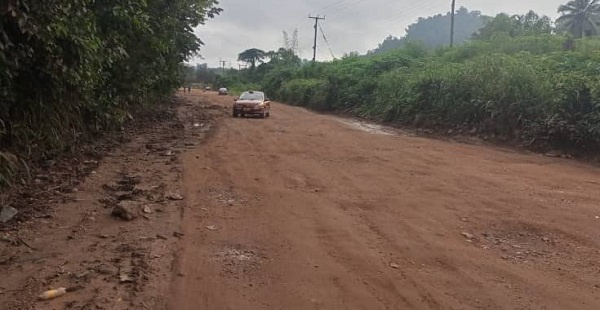 The bad nature of the road from Bogoso to Prestea has always been a major
problem the people of Prestea.
The numerous potholes and bumps on the road without attention for several
years is a testament to the neglect of the past and present governments.
But as elections approach, the people of Prestea seem to have had enough of the
government's neglect.
Speaking to GhanaWeb in an interview, residents of Prestea shared their plight on their poor road networks.
They said: "We need this road fixed or else they should not think of bringing a ballot box here for votes".
A resident, Simon Mensah said "We have been neglected for too long. Look since
time immemorial, various governments say the road has been awarded to a
contractor, but we never saw any better work on the road to date, every election year, the politicians make promises, but those promises have never come to pass. They better do something before the election 2024″.
He added, "During the 2020 elections, the NPP started asphalting the Prestea township a few days before the elections, but when the then MP, Lawyer Barbara Oteng Gyasi lost, they stopped it, and we have been living in the dusty environment till now".
According to these residents, Asabea Construction Ltd. was the contractor working on the road till 2019 when the Chief Executive Officer (CEO) of the company, Ofori Larbie publicly insulted the chiefs, authorities, and people of Prestea on Adom FM, after community folks complained about the bad nature of the work being done.
Since then there has not been any work done on the road, leaving it to
deteriorate.
Checks by GhanaWeb saw that the Prestea Huni Valley Municipal Assembly is
using a grader to smoothen some rough edges of the road while the Future Global Resources, a mining company is also filling muddy portions of the road with stones.
But such measures taken are not enough for the people of Prestea.
"We don't need reshaping, we want a total reconstruction of the road, that
will solve the problem once and for all. We don't want reshaping, we want
reconstruction", a taxi driver told GhanaWeb.

Source: www.ghanaweb.com