CONFIRMED: Lady cursed by taxi driver in viral video dead – Report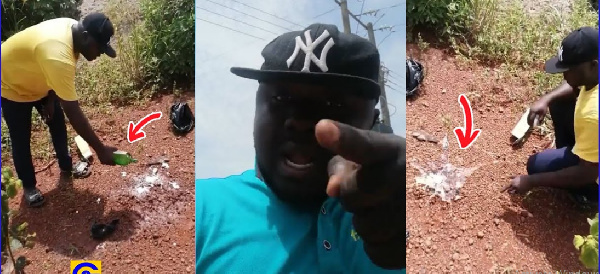 In a recent viral video that hit social media, a taxi driver identified as Nana Poku was captured invoking curses on his girlfriend and her family.
In a latest update to the event, the lady in question identified as Maame Yaa is reported to have died some three weeks after the curse was invoked.
"We understand the gods have dealt with the family. The girl has reportedly died," Kojo Dickson of Angel FM announced during a midday news.
In the earlier viral video, Nana Poku was seen appealing to a deity with a bottle of Schnapp and eggs to wipe out the said lady's entire family.
Prior to the development, Nana Poku was captured on social media painfully narrating how the lady, who he lived with, cheated on him after providing for her and her family.
The taxi driver, popularly known as, 'One Ghana', said after spending a fortune to enroll his lover (Maame Yaa) in school, she had jilted him for another man.
Nana Poku said he had spent all his life savings on the lady but all he got in return was scorn.
"A lady I was with, I spent money and bought her a machine and even paid money for her to learn sewing. I am even preparing myself to marry her so she can be all mine and later learn the trade. I provide all her needs and I have even bought a phone for her. But today, I was with her and all of a sudden, she wants to go to school. I told her that if she intends to go to school, she should break up with me because I won't be able to stand the competition with different men. I later heeded and took her to school.
"Now, the lady has totally run me down. Things are really hard for me and the car owner has come for his car. As it stands, I am jobless. Now she has her own job whiles schooling. She does what she likes. It has come to my knowledge that men even pick her with big cars and take her to hotels. She will go and do whatever she likes with the men and come back home and sleep by me," he stated.
Nana Poku established that the lady's family is solidly backing their daughter instead of apologizing or even making an attempt to appease him.
Nana said the lady's family has threatened to drag him to court on the basis that he devirginized their daughter and has since been camping her.
Nana Poku who feels cheated, has not taken things lightly. In a video making rounds online, the taxi driver was seen hurling curses at the lady and her family.
"I met Maame Yaa while she was a virgin and then all of a sudden, she claims that I am out of her league. I met Maame Yaa at a time she had a child, I looked after her and her entire family but after milking me dry, she claims not to love me anymore. Her parents are telling me trash. I met Maame Yaa when she was selling boiled eggs. After putting me through all these, I want you to strike her and deal with her. Kill her mother and use Maame Yaa to clean your sword.
"I have given her mother money several times, but if today, they want to adopt a legal means of addressing this issue instead of begging me, let them die and fall off one after the other like ripe bananas on a tree," he stated.
Source: www.ghanaweb.com