Akuapem Polo explains why she slapped Adu Flatelo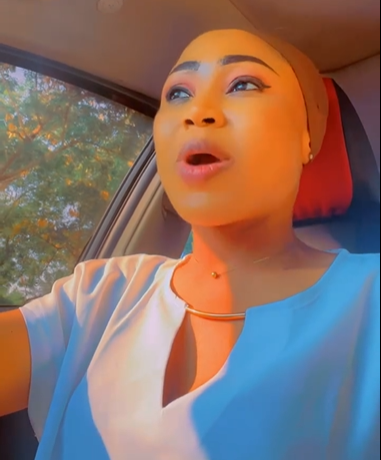 Haniya Rosemond Alade Brown, who has gained recognition in the showbiz circle as Akuapem Poloo has explained why she grappled with Ghanaian musician, Adu Flatelo.
According to Akuapem Poloo, the musician is fond of spreading rumours about her, with the rumours including the musician lying on various media outlets that he has been having sex with her.
She adds that Adu Flatelo after spreading such rumours comes to her to apologise but will still go ahead to make those false claims.
"Nkonkonsa the blogger invited me for an interview. I didn't know I was going to meet that young guy there. When I got there, he was sitting down. I didn't recognise him because the first time I saw him on Legendary Lilwin's set and he apologized to me, he was in braids. I have met him twice in my life. This guy goes around on radios, Gh pages, saying that he went to Dubai with me to sleep with me in the corridor of all hotels. This same guy went on the radio to say that in Kumasi hotels, the hotel tellers saw him sleeping with me".
"This guy will say this, meet me and say sorry to me. He will go again and repeat the same thing. And today, I didn't recognise him, but he recognized me because you wanted my trouble, you started insulting me and you think I'll forgive you?", she explained.
Akuapem Poloo requested that Ghanaian presenters should not invite her for interviews if Adu Flatelo will be part of the discussion.
"Nobody should call I and Flatelo together anywhere. Because he disrespects women. He doesn't know how to talk and I don't know him from Adam. He claims he was saying all those things just to get attention and to be seen in the timeline", she said.
Background:
Ghanaian actress cum brand influencer, Rosemond Brown, popularly known as Akuapem Polo engaged in an argument with musician, Adu Flatelo, which resulted in the actress slapping the musician.
The scuffle took place on November 9, 2023, at the studio of Ghanaian blogger, Nkonkonsa when they were preparing to host a show.
The argument came about when Adu Flatelo was ranting as to why he was not informed that Akuapem Polo would be part of the guests.
The actress, in an attempt to explain she did not recognize the musician when she entered the studio slapped him for calling her stupid.
Watch as Akuapem Poloo explains why she engaged in a fight with Adu Flatelo:
View this post on Instagram