You should have applied wisdom in your response – Samini 'stings' Sarkodie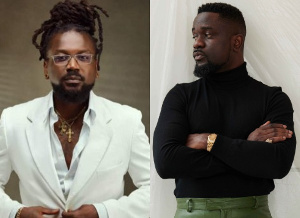 It could be recalled that earlier in January 2023, Samini had in a series of posts on Twitter chided Sarkodie for ignoring him after he had sent a track to Sarkodie to contribute a verse on it. According to Samini, Sarkodie initially replied to his message but refused to accept or decline the proposed collaboration.
Sarkodie, when asked about the situation offered an apology but said that Samini's claims may not be accurate.
"I'm saying sorry, not because everything you are saying is true. I treat things differently from how people treat things," Sarkodie said on Daybreak Hitz in an interview with Andy Dosty at the time.
"I wouldn't call it pain because I don't care. Everybody has something happening to them. There are thousands of people out there who will also say I don't hesitate to work with them," he added.
"I told Bullgod, sometimes you listen to a song and, you don't hear yourself in it so you're trying so hard to find time to do it. I'm saying sorry for how he feels. If he says he feels like that, then sorry," Sarkodie added.
However, in an interview with Andy Dosty recently, Samini stated that he felt hurt that Sarkodie didn't take that matter as seriously as he should have and acted like he [Samini] was overreacting.
"On your show, when he was asked about the issue, instead of him to brush the matter off, he acted like I was just ranting on the internet for no reason. What hurt me the most was that he kept on ignoring my messages. I kept asking 'How far?' but he never replied," Samini explained.
The Dancehall giant further explained that he felt hurt because he never hesitated to work on a song Sarkodie sent for collaboration, hence, the rapper's decision to ignore his messages was disrespectful.
"I sent him back a verse under 24 hours. So me asking you for a verse on a track, if you can't do it, all you could have done was to reply to my message and say 'I can't do it'," said Samini who sounded angry.
"So it was painful that he waited until I had to bring the matter out into the public before he remembered what he had done. And if you'd respond, you being younger, and the fact that you remember exactly what happened, you should have applied wisdom in your response so you don't fan my fury," Samini added.
Check the video below,
Source: www.ghanaweb.com