'We've pampered you for too long': Watch NPP members tear off Alan K's posters from party office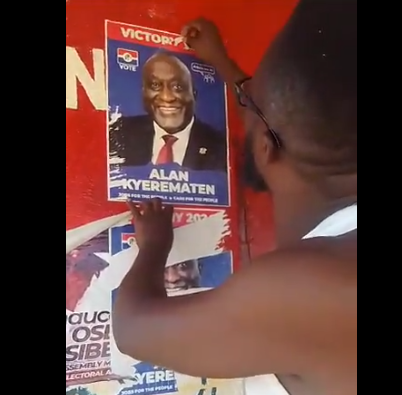 Alan Kyerematen, former Minister of Trade and Industry, resigned from the NPP on September 25 and announced his intention to run as an independent candidate in the 2024 presidential elections.
The video depicts the NPP members tearing off the posters from the party's office walls.
In the video footage, a young man is seen taking down the campaign posters, which were displayed on a building painted in NPP's colors.
He is heard voicing his frustration, declaring, "You cannot take such a nonsense decision, and your posters will remain here," as he removes the posters from the walls.
Another individual behind the camera is heard offering vocal support for the removal effort, repeatedly urging, "Remove them, remove them. Your posters cannot be pasted in our party office. You are not the one who rented the house for us."
An aggrieved member is heard adding: "We have pampered you for a long time. You can't come and destroy the party for us. You have enjoyed from the party, and now that you have realized that they are not good people…"
Alan Kyerematen's decision to go independent comes in the wake of his withdrawal from the NPP flagbearer race, a move reportedly prompted by challenges faced during a Super Delegates Conference within the party in August 2023.
In his official statement, Alan Kyerematen said, "Under the circumstances and given the context, I am honorably resigning from the New Patriotic Party to contest the high office of the presidency of 2024 as an independent presidential candidate."
Source: www.ghanaweb.com