We expected GHC3,000 instead of GHC1,380 – Cocoa farmers lament new price by government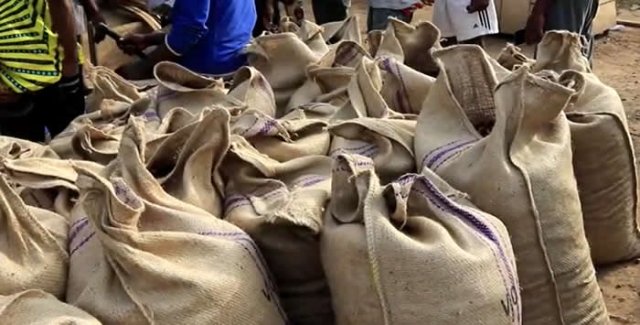 Whereas President
Nana Addo Dankwa Akufo-Addo
's announcement of a new producer price for a bag of cocoa was met with wild jubilations at an event in Tepa on Saturday, some group of farmers have expressed worry over the government's decision to peg the new price at GHC1,308.
Secretary of the National Cocoa Farmers Association, Johnson Asante in an interview with Oyerepa FM said farmers expected to be given at least GHC3,000 as the new price.
"We have heard about it but we don't want to believe in rumours that the cocoa price has been increased to GHC1,308.
"For myself and my members, we are not happy about it because if cocoa price on the world market is $12.99 per pod, its unfathomable for us to be given that amount. We cultivated the crop on our own lands… If I had my way the price should be increased to GHC3,000 per bag."
President Akufo-Addo speaking at an event on Saturday, September 9, 2023, said until recently, international prices of cocoa had remained very low, and made worse by COVID-19, adding that, in spite of this, COCOBOD and Government have been taking the very hard decision of increasing producer price of cocoa.
"Cocoa prices have increased from seven thousand, six hundred cedis (GH¢7,600) per tonne in 2016, to twelve thousand, eight hundred cedis (GH¢12,800) per tonne in 2022, a significant increase of sixty-eight percent (68%).
"This has had an adverse impact on COCOBOD's financial performance," he said.
Acknowledging that the sustainability of the entire cocoa industry hinges on a well remunerated producer, who is willing to invest in business only with the certainty that Government will pay the appropriate price, the President stated that Government, in keeping with its promise to cocoa farmers has increased the producer price.
According to President Akufo-Addo, Government has "increased cocoa prices from twelve thousand, eight hundred cedis (GH¢12,800) per ton, to twenty thousand, nine hundred and forty-three cedis (GH¢20,943) per ton, or one thousand, three hundred and eight cedis (GH¢1,308) per bag. That price is seventy-point-five percent (70.5%) of the Gross FoB price, and is equivalent to one thousand, eight hundred and twenty-one dollars ($1,821) per ton."
The president noted that the new price "is the highest price to be paid to cocoa farmers across West Africa in some fifty (50) years. With the predicted stable prices above two thousand, six hundred United States dollars (US$2,600) threshold, Government will continue to honour our famers with good prices in the years ahead. Indeed, better days are ahead."
But according to Johnson Asante, farmers have been dealt raw deal by the government and thus bemoaned that contribution of the state in making cocoa farming unattractive to the youth.
He emphasized that the 3000 cedis his group was proposing "will be helpful to farmers. These are some of the reasons why farming is no longer attractive to the youth who would prefer to engage in galamsey instead of cocoa farming," he said.
Source: www.ghanaweb.com