Pamu-Berekum Forest Reserve shows signs of regaining lost vegetation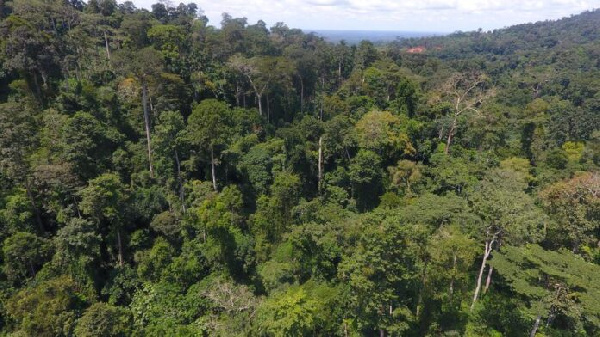 The Pamu-Berekum Forest Reserve at Dormaa- Akwamu, Dormaa East District of Bono Region is showing clear and positive signs of regaining its lost vegetation after suffering years of depletion induced by human factors.
This development comes after the Dormaa District Office of the Forestry Services Division (FSD) with the support of local chiefs and queen mothers and students as part of activities to mark the Green Ghana Day last year planted tree seedlings of various species at the most depleted portions of the forest reserve to reclaim its lost vegetation cover.
The Ghana News Agency (GNA) saw during an inspection visit to the reserve led by Mr Felix Amoah, the Administrator, FSD, Dormaa District, as part of the observance of this year's Green Ghana Day that barely a year after planting, some of the tree seedlings had grown beyond five feet, showing remarkable signs they would mature faster than anticipated.
Speaking in an interview with the GNA on the sidelines of tree seedlings planting exercise to mark the day in the forest reserve, Mr Amoah said the FSD was yet to start a survival survey to assess the rate at which the 'plants' had survived.
"We don't assess the plants at the first time of planting. It's after a year that we do, at least to replace those that were not able to survive", he explained.
Mr Amoah attributed the failure of some of the plants to grow to prolonged droughts and use of harmful chemicals by the farmers and Fulani herdsmen who sometimes led their cattle to graze in the reserve.
He said the Dormaa FSD District targeted planting 250,000 tree seedlings which covered six politically administrative municipalities/districts of Dormaa Central, Dormaa East, Dormaa West, Berekum West, Jaman South and Jaman North.
Mr Amoah said 150,000 out of the 250,000 tree seedlings would be planted on approximately 150 hectares within the district's two forest reserves – Mpameso and Pamu-Berekum.
But he added the focus was the Pamu-Berekum where 130 hectares would be planted with different tree seedlings, saying 80 hectares at a portion of the reserve and another 50 hectares at the Koradaso end of it.
Mr Amoah said the District FSD was engaging farmers to plant ofram, mahogany, kokrodua, emire, acacia and cinderella trees seedlings under modified taungya system (MTS) where those farmers would be rewarded, but he added some personnel of the Youth Employment Agency (YEA) would also be engaged.
Source: GNA