WATCH VIDEO: Wendy Shay involved in a car accident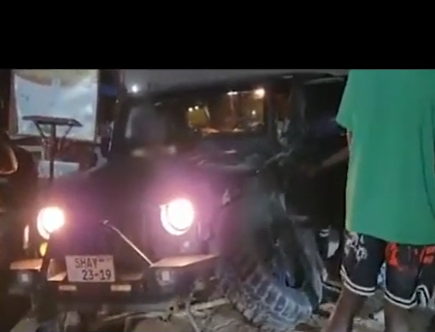 The incident, according to an eyewitness, occurred a few minutes after midnight on Sunday, September 10, 2023, on the ACP Estate and Kwabenya stretch in Accra.
"Between the ACP Junction and the Kwabenya stretch, you know the road is usually clear at night, and so the cars are usually at top speed, even though there is police presence on the road. A short distance away from the KNUST Accra Campus Junction, coming out of the valley, I saw people gathered around a car. So, I decided to park and see what was happening. Upon checking, I realized a lady was coming out of a car. She had dreadlocked hair just like Wendy Shay.
"So, I said, let me rush and see, and upon getting closer, I saw it was Wendy Shay. The Wrangler she was using has a custom registration, 'Shay.' Quickly, I got closer to her and asked her what was happening. She said she can't talk much, as she's in severe pain in the head because she hit her head on the dashboard," Deputy News Editor of UTV, Prince Obimpeh, said in a live interview on United ShowBiz.
As for how the accident occurred, the eyewitness said the artiste collided with a tipper truck loaded with sand, which was facing her direction after she attempted to evade the truck.
"Had it not been for the gutter by the road into which part of her car skidded, Wendy Shay's Wrangler would have toppled over," the eyewitness reported.
A video from the accident scene, shared by UTV, shows a mangled frontside of the Jeep Wrangler with the registration SHAY 21-19.
According to the eyewitness, efforts are being made to transport the Ruff Town Records signee to a nearby health facility for medical attention.
See video of the accident scene below:
Source: www.ghanaweb.com