WATCH: The disallowed goal of Hearts of Lions against Asante Kotoko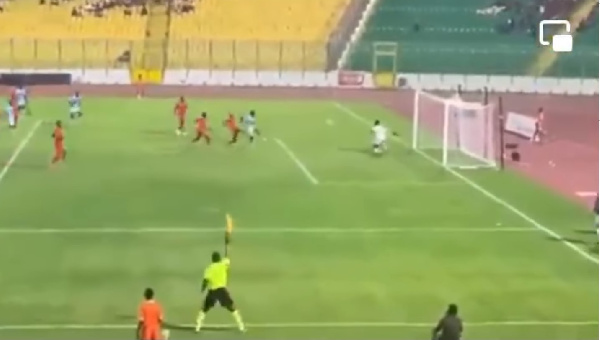 Sports journalist, Saddick Adams, reacted angrily to the decision of a referee to disallow a goal against Asante Kotoko in their Ghana Premier League game against newly promoted side Heart of Lions on Sunday, September 17, 2023.
A major highlight of the game was when a Lions player volleyed a rebound into the Kotoko net after the goalkeeper punched a goal bound shot into his path.
The Lions team had started celebrating their first goal of the season only to see that the linesman had his flag up, a decision the referee enforced.
The unanimous verdict on social media platforms was that the goal had to stand because the said player per the rules was not in an offside position.
"How is it possible to explain this as a referee, except to say your motive on the lines is just to ensure the opposition doesn't score? Kotoko would've bitterly complained if this had gone against them too.
"Terrible officiating. Dangerous ref," Saddick stated quoting a tweet that had posted the video.
In a subsequent post, he shared another video with the caption: "There's no explanation. He is a crook and has to be exterminated ASAP to purge the system of his unscrupulous ilks. This wasn't a mistake. It was maliciously intentional."
Other people who agreed with his position joined in the comment section to berate the officials whiles others extended their anger to the Ghana Football Association and the league organizers.
See some reactions below:
@alaska_gh: "They rob every team they play in Kumasi."
@storyoforphan: "Very terrifying"
@EricAnkrah3: "The assistant referee should be sanctioned by expelling him from the FA."
@KelOwusu: "Very bad call."
@KofiDan25: "Total robbery.. How can you call this an offside??"
@kumi_black: "The reason why I no dey watch this local league, nothing will make me watch this league even if them pay me koraaa….I won't, wei y3 league. Time wasting k3k3."
@theODDBOSS: "If armed robbers are hunted and arrested, there's absolutely no reason why this assistant referee should be walking a free man."