Watch how Nigeriens jubilantly celebrated the final hours leading to the ECOWAS ultimatum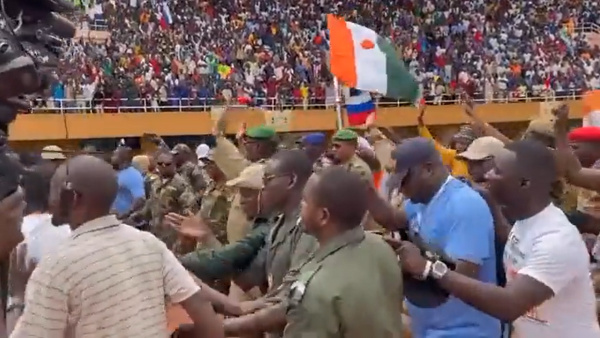 As the clock ticked closer to the ultimatum given to the Nigerien junta led by General General Abdourahmane Tchiani, by the Economic Community of Western African States (ECOWAS), to hand over power to the deposed President Mohamed Bazoum, vibrant scenes of jubilation swept through the country's region.
The celebration comes as a bluff to the West Africa bloc.
The military rulers in Niger have so far refused to relinquish power as demanded by the ECOWAS.
The Economic Community of Western African States, led by the president of Nigeria, Bola Ahmed Tinubu, gave the coup leaders, Sunday, August 6, 2023, as the deadline for the release and return to power to the deposed president.
However, a few hours before the deadline, citizens in the country were seen in a stadium in their numbers jubilating and cheering the coup leader, General Abdourahmane Tchiani as he walked into the premises.
The military leader, General Tchiani was surrounded by his colleague military officers and other citizens who were hoisting the Niger flags, blasting music and celebrating in support of him.
General Abdourahmane Tchiani and some soldiers belonging to the presidential guard on July 26, 2023, overthrew the president, Mohamed Bazoum.
The ECOWAS since gave the leader an 11-day ultimatum to hand over power or risk the wrath of the sub-regional bloc.
WATCH Our latest Episode with Kennedy Agyapong in South Africa below:
Source: www.ghanaweb.com