Watch as Ghana's old-plane-turned-restaurant at Airport is towed away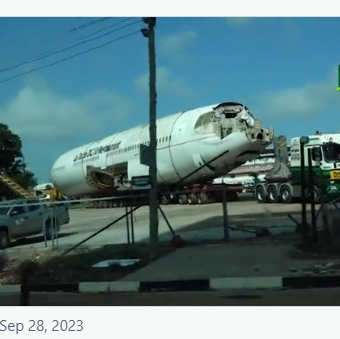 When Ghana's national airline, Ghana Airways, became non-functional for air travel and was transformed into a restaurant, many felt it was a nice way to continue to preserve that memory of the country, but now, even that hope has been completely shattered.
This is because the La Tante DC-10 Restaurant, the name of the old plane, has now been shut down, and its remains have been moved from the airport location it was in, in Accra.
In a video shared by UTV on X (formerly Twitter), it showed a long truck towing away the remains of the old plane, indicating that it brings to an end the efforts to sustain the memory of this national relic.
"The Ghana Airways plane, which was refurbished and transformed into La Tante DC-10 Restaurant in 2013 through a public-private partnership, and located opposite the Marina Shopping Mall, Accra, has now permanently closed its doors, and the airplane has been towed away," the caption to the video said.
The video also shows the extent of ruins that have been caused to the plane.
See the video below:
Source: www.ghanaweb.com