A married woman, Kyeiwaa, a resident of Agona has gone blind after another man believed to be her boyfriend slept with her at a bush near a river.
Kyeiwaa narrating her ordeal on Oyerepa Afutuo said the man known as Agya Osei has had intimacy with her several times.
"Agya Osei took me to his Cocoa farm and had s3x with me. He slept with me 6 times before I got married and when I married too he slept with me again by then I was 8 months pregnant". She revealed.
According to her, she never knew the place was close to a river.
Maame believes that Agaya Osei use juju on her.
"I don't really know what he has done to me. Whatever said says I can't decline and I will act as sheep.
"Agya Osei proposed and promised to give me GHc1000 to start onion business but I rejected and walked out of him. I later returned to him. I don't know what came over me". Kyeiwaa said.
Agya Osei in a phone interview admitted sleeping with the woman at a bush near the river.
"Yes… I slept with her. The issue was put before the traditional leader. I was asked to pay money, and buy sheep for the rituals. So the lady will regain her sight after 3 days, I did all but she couldn't see after the 3 days". He told Aunty Naa host of the show.
Meanwhile, Kyewaa lamented the river gods have given her three days to perform another ritual else she will die.
However, Agyei Osei refused to pay any additional money for her because he had paid a lot initially.
CLICK HERE TO DOWNLOAD PRESS RADIO MOBILE APP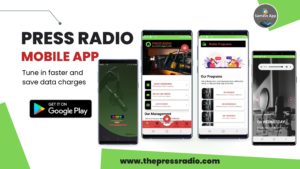 Watch video below:
Source: Oyerepafmonline.com