Two people brnt alive to death for allegedly killing a 63-year-old woman at Assin Bereku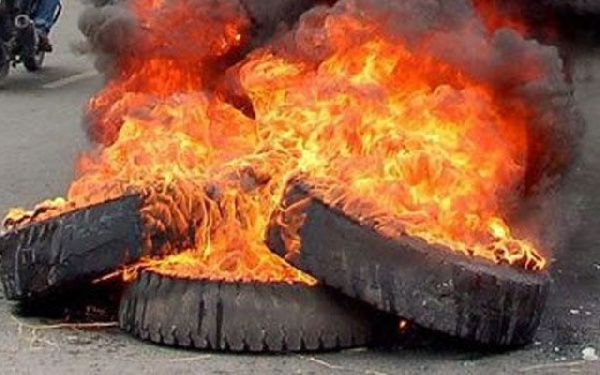 Two individuals have reportedly been burnt to death in Assin Bereku, a town in the Assin North constituency of the Central region.
According to a report filed by citinewsroom.com, the incident occurred on Thursday, July 13, 2023, when unknown assailants entered the room of a 63-year-old woman and inflicted cutlass wounds upon her.
The woman, who sustained severe injuries from the machete attack, is currently receiving medical treatment at St. Francis Xavier Hospital in Assin Fosu.
The report further explains that upon learning of the assault, the town's youth mobilized and launched a search for the suspects involved. They subsequently apprehended two individuals suspected to be behind the attack and set them ablaze.
Residents of Assin Bereku have indicated that the suspects are not known within the community and are believed to have been hired by unidentified individuals to carry out the violent act.
The Tufohene of Assin Bereku, Nana Kotroka Frimpong Baah, is alleged to have attempted to intervene and save the suspects but was hindered by the enraged mob.
Expressing concern over the hasty and fatal actions of the mob, some residents lamented the current societal focus on material wealth, which they believe entices the youth into engaging in criminal activities. Kwabena Appiah, a resident, remarked, "What is worrying is that the mob did not have patience but killed the suspects. If they had taken their time, we would have found the killers who sent the individuals to engage in this act. This generation is really after money, and we see these things on our television screens. The youth are deceived into believing that quick money is good, and this is what is pushing most of the youth into engaging in these acts."
Source: www.ghanaweb.com