Two more suspects in Ablekuma Fan milk bullion van robbery remanded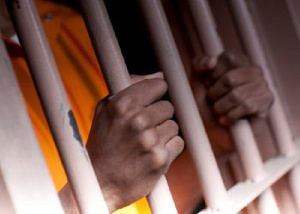 Two more suspects nabbed by the Police over the weekend in connection with the Ablekuma Fan milk bullion van robbery have been remanded by a Kaneshie District Court.
So far, four persons have been arrested by the police.
On July 4, 2023, the same court remanded Benjamin Ojogbe, unemployed, and Rashid Abdul in connection with the robbery incident.
They were charged with conspiracy to commit murder and murder and their pleas preserved by the District Court.
The four accused persons' operation allegedly led to the death of Lance Corporal Calyptus Amoah.
The two new suspects currently in lawful custody are expected to appear before court on August 3, 2023.
In June this year, some unknown men allegedly shot and killed Lance Corporal Amoah in a suspected robbery attempt on occupants of a bullion van at a fuel station at Ablekuma Fan milk.
The Ghana Police Service in a statement said the suspected robbers followed the van, which went to refill at the fuel station, where a shoot-out occurred.
It said the policeman was seated on the passenger seat in front of the vehicle on security duties when he was shot at close range.
Police investigations led to the arrest of Ojogbe and Abdul at Circle Railways whiles they were enjoying themselves at about 1:30 am.
On July 15, the Police arrested another accused person in neighbouring Togo.
Source: GNA