When two people wed, they typically exchange vows to be together for better and for worse, for richer or for poorer, in good times and bad, and so on…
According to an interview with Afrimax TV, however, a man known as ' Theodomir ' tells his sad stories by saying that he was born just like everyone else but the unfortunate started when his legs and hands suddenly froze while jogging with work mates.
Theodomir was born normal. He was a security officer. In 2018, he went jogging with his mates. When he was done, he went back home to have his bath. As he was bathing, his two legs and two hands just froze, they became strong stiff. His leg and hands started to smell and rotten.
He was rushed to a nearby hospital, but was transferred to another hospital. Even though he was feeling a lot of pains, it is alleged that the doctors were lazy in treating him. Since he wasn't getting enough attention, he was rushed to another hospital.
When they got to the hospital, he was taken to the theater for Operation. The Doctors had no choice but to cut off his legs and hands.

When the worse happened after his legs and hands were cut off, his wife ran away with his properties, living him with their 7 children.
People felt pity for him. They comforted him and some even prayed for him. Good Samaritans that he didn't even know started coming to the hospital to help him, some people would bring food for him.
He lived with his kids for four years as he managed to take care of them alone. He later found love again from another lady. The new wife stayed with his children and took good care of the man as well. They've been married for 3years now.
The man sells Sugar cane in order to make ends meet for himself and his family, he is always happy to work even though he doesn't make much money.
CLICK HERE TO DOWNLOAD PRESS RADIO MOBILE APP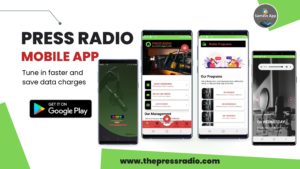 WATCH THE VIDEO BELOW: