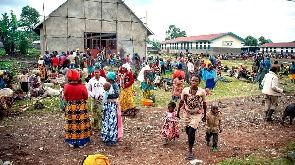 Kinshasa was this past week fuming, accusing Rwanda of weaponizing refugees as the two sides bickered over support for the M23 rebels, who have been visiting violence on residents of eastern Democratic Republic of Congo.
It all began on Monday when President Paul Kagame threatened to throw Congolese refugees out of the country in a long-standing spat with Kinshasa that has pushed the two neighbours to the brink of war. Both countries host each other's nationals as refugees.
President Kagame warned that he would not let Rwanda be a "dumping ground" for refugees when the international community continues to blame him for the violence in eastern DR Congo.
"We cannot keep being host to refugees, for which we are later on held accountable in some way," he said.
He added that DR Congo continues to reject dialogue with the M23 rebels although it has considered talking to them in secret, which would mean it remains Rwanda's problem.
"This (M23) is not Rwanda's problem," the Rwandan leader said. "And we are going to ensure that everybody realises that it is not Rwanda's problem. Starting with saying those who think it is Rwanda's problem and not DR Congo's, first, remove these Congolese from here."
Protect them
Kagame added that since the international community appears to have failed to hold the DR Congo government to account, his country should not continue to carry the burden and "be insulted and abused every day about it".
"So, either you carry the refugees from here and take them wherever you want, or they go back to Congo, and you protect them there. I have heard you will protect them against their own government, and from the mercenaries," President Kagame said.
These remarks were roundly criticised.
On Wednesday, Congolese government spokesman Patrick Muyaya accused President Kagame of wanting "the international community to start paying for the refugees.
"This is inhumane. He has revealed his true intentions. It means that for him, human rights have no value, because you cannot, as a head of state, blackmail the international community, and you say you are pan-Africanist," said Muyaya.
There are about 77,000 Congolese refugees in the Rwanda. Kinshasa accused Rwanda of trying to put conditions on hosting them when it has signed an agreement with the UK to admit rejected immigrants in London.
Kigali is expected to host illegal immigrants, with the UK providing financial support for their social programmes in Rwanda. The $145 million deal has been lampooned by rights watchdogs and is still stuck up in court in London, awaiting deliberations on appeal, after the UK government won the first round on its legality.
Mr Muyaya claimed there are "more Rwandan refugees in DR Congo than Congolese refugees in Rwanda'', but didn't provide actual figures.
In 2014, Kinshasa said it was hosting 245,000 Rwandan refugees and said two thirds of them did not wish to return home.
Kagame's remarks
On Tuesday, Rwandan Government Spokesperson Yolande Makolo walked back on the President's threat, saying that Rwanda has "no intention to expel or ban refugees" and instead blamed the media for "misrepresenting" Kagame's remarks.
"Rather than address the challenge of bringing security and peace to a region whose citizens deserve nothing less, some media outlets chose instead to misrepresent President Kagame's call for leadership and accountability as a threat to expel or ban refugees," she said.
"We always welcome people fleeing insecurity, persecution and violence. We are asking for the international community to take responsibility for finding a lasting solution for this forgotten group of refugees from the DRC. What the President addressed was the blatant hypocrisy in criticising Rwanda, which simultaneously gets the blame for state failure in the DRC, and is then expected to accommodate those who seek refuge from the consequences of that failure."
Source: theeastafrican.co.ke