Rain floods Asogli Palace, collapse stores with millions of cedis in damages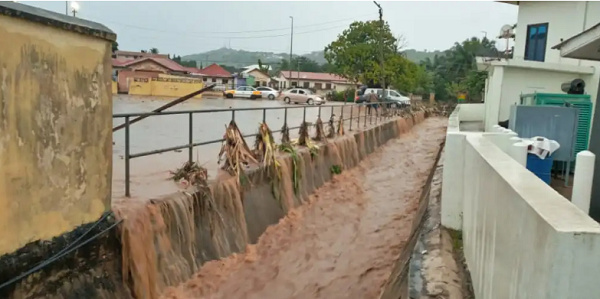 Saturday's torrential rains have flooded and collapsed several stores around the Asogli palace with damages running into millions of cedis.
The rainfall, which lasted for about two hours caused a major storm drain traversing the Asogli palace to overflow, flooding the frontage of the palace to a depth of about four feet of flood water.
A resident of the palace told the GNA the flood water forced its way through a chain of stores bounding the yard, collapsing several and sweeping away varying goods including bales of cloth and beauty products.
Several people in the neighborhood including shop owners could be seen salvaging from the retail shops and buildings the flood had crushed amidst wailing and lamentation.
Teams from the Municipal Fire Office and National Disaster Management Organisation (NADMO) responded and helped clear the waterways and conduits that had been clogged with debris.
The flashfloods, unseen in the area for over a decade according to the shop owners and traders, caused a road blockage at the Civic Centre and drew the public to the scene as flooded valuables were retrieved.
Structures situated on storm drains were badly hit by the raging flood and several traders affected blamed the authorities for refusing to address the prone area.
Ernestina Narh blamed the storm drain at the palace and said a metal sieve at the road culvert caused the flood, adding that authorities had failed to respond to her calls.
Steven Adigon, Municipal Director of NADMO said stakeholders including the Electricity Company of Ghana had helped secure the area against further damage and that as the flood receded, the situation was placed under control.
He said the regional capital should be able to withstand the seasonal rain-floods and assured that the situation would be arrested.
Meanwhile, the Municipal Assembly, in a statement asked residents and businesses in flood prone areas to consider relocating.
It asked residents to desist from dumping refuse in drainages and waterways and remain vigilant and assured that stakeholders would address the situation.
The Assembly urges all residents to remain vigilant, follow safety guidelines, and cooperate with the relevant authorities during this challenging period saying Together, we can overcome the effects of the floods and build a more resilient community.
Source: GNA