Prophet Azuka kills fowl, performs another ritual as he supposedly buries destiny of Kofi Pages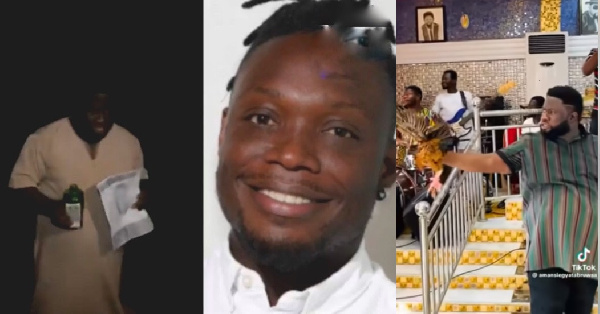 Ghanaian prophet Amasie Gyata Bruwaa, also known as Prophet Azuka, is not giving up his quest to supposedly bury the destiny of Ghanaian TikToker, Kofi Pages.
The decision of the self-acclaimed prophet of God to bury the destiny of Kofi Pages started just about three days ago after the latter went on a live broadcast of the former to call him out as a fraud who was using smart ways to scam members of his church off their hard-earned money under the guise of interceding for them spiritually.
In his first reaction to these allegations and supposed disrespect, Prophet Azuka was seen in a viral video standing in a river at dawn holding a schnapps bottle and cursing Kofi Pages.
The leader of the Shinning Grace Chapel International started emphatically in the viral video that he was doing to demonstrate to Kofi Pages that there was power somewhere.
He went further to state that the only way this curse was going to be reversed was when the TikToker and his family came to his church to apologize to him.
Well, as things stand Kofi Pages and his family have not apologized to Prophet Azuka yet, however, the supposed man of God has performed another ritual to curse Kofi once more.
In another that surfaced from Azuka church premises on Saturday, August 5, 2023, he was seen k!lling a live fowl as he said a few things to curse Kofi Pages and his descendants one more time.
WATCH Our latest Episode with Kennedy Agyapong in South Africa below:
Source: zionfelix.net