17-year-old girl deranged after being rescued from 'Nigerian ritualists' at Kasoa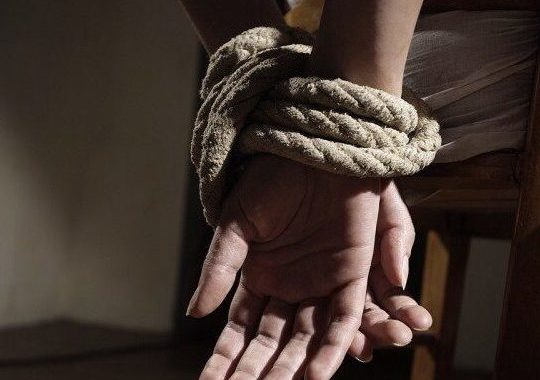 The family of a 17-year-old girl have been left in a state of worry after she was rescued from suspected kidnappers at Kasoa in the Central Region.
According to reports, the girl was held hostage by her captors identified as Nigerians.
Her father in an interview with Metro TV said various attempts by residents to free his daughter failed until a police team stormed the abode of the captors numbering fifteen and ensured their arrest.
"All I heard was that some Nigerian boys from the camp of my opponent has kidnapped my daughter and held her hostage.
"We don't know what they have done to my daughter and now she is deranged. When we entered the place, we were unable to rescue her even after I called four of my Asafo boys. The first police team that reported to the place were unable to arrest them. It had to take another team to be brought in from the regional command to effect their arrest. They've caused injuries to my boys, they robbed them of their phones and money," he told Metro TV.
The distressed father who suspects that his daughter was the victim of a ritual added that she is now showing signs of being mentally challenged.
"Right now my daughter is mentally unstable, she is insane and I don't know whether they used her for a ritual or drew her blood for something.
"So I am appealing to the IGP to ensure a deeper investigation into the issue to establish what was done to my daughter," he stated.
A video shared by Metro TV shows the girl giving incoherent answers to questions by her family in their attempt to find out what had happened to her.
Source: www.ghanaweb.com