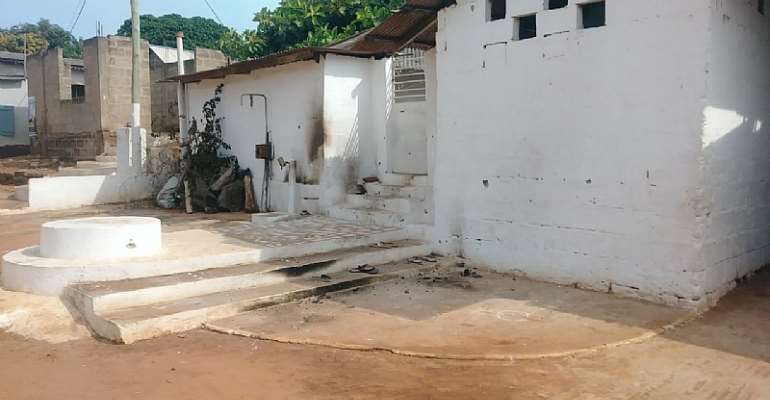 Information available to this portal indicates that the Family Head of the Kley Wetsotse clan, one of the clans in the Prampram Traditional Area, has been shot dead by unknown assailants this dawn.
Nii Otu Sei Klo who was in the company of other kingmakers at the shrine house to perform some traditional rites was gunned down in the early hours of Tuesday around 3am.
Two other senior members of the Anner We Royal Gates who were also in the meeting, sustained life threatening injuries and are currently on admission at the Tema General Hospital.
Meanwhile, police personnel have since been dispatched to the area to investigate the matter and also ensure peace.
The Tema Regional Police Command have confirmed the incident and said they have launched investigation into the matter which has been linked to chieftaincy dispute in the area.
Some Royal Gates of Prampram have served notice that the necessary traditional rites to pave way for the enstoolment of a new chief for the Prampram Traditional Area in the Greater Accra region will take effect on November 30, 2021.
In a communique issued and signed by the kingmakers of the Prampram Traditional Area, it said, the need to rescheduled the customary rites and coronation for the new king, which was originally scheduled for October 31, 2021, was as a result of the said date coinciding with the final funeral rites of the late Gbawe chief in Accra.
It would be recalled that, Heads and Kingmakers of the three Royals Gates in the Prampram Paramountcy, had in August 2021 served notice to enstool a new king for the area.
They averred that, the need to enstool a new chief, has been as a result of the Paramount stool being vacant for years.
The August press conference which had brought some excitement among some locals of the Prampram Paramountcy, was expected to bring to an end the Chieftaincy dispute facing the area for years now.
However, the statement signed by the Heads of the three Royal Gates and the Paramount stool father Numo Osabu Abbey IV, Sunday, October 17, 2021 urged members of the general public to have faith in the kingmakers in ensuring a new king is enstooled by close of November.
It also called on the general public to be measured in their excitement during the coronation process to formally outdoor the new king, who has since been selected and due to be confined in the stool room for the necessary customary rites per tradition to formally pave way for his outdooring.
—DGN online