Popular TikToker Kakai Shatta arrested for pretending to be disabled?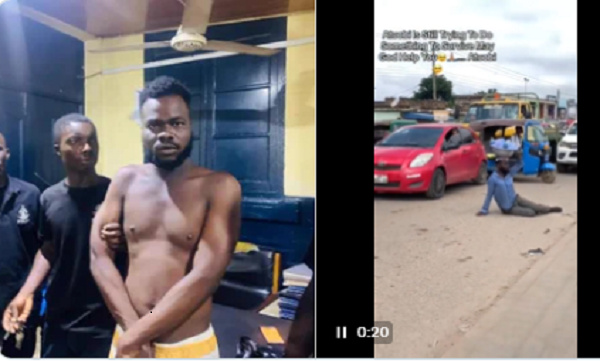 Popular TikToker Kakai Shatta has reportedly been arrested by police on allegations of defrauding individuals by pretending to be a disabled person.
His reported arrest is said to have come in the wake of his appearance on Onua TV, during which he openly confessed to being able to walk and even demonstrated his mobility.
Kakai Shatta's rise to fame on TikTok was marked by content that portrayed him as a disabled individual.
Revealing that he wasn't in any way disabled triggered a wave of controversy and backlash against him
In an attempt to justify his actions, Kakai Shatta claimed that he had adopted the facade of being disabled to garner sympathy for individuals with disabilities.
A photograph circulating online shows Kakai Shatta in the custody of the police.
A tweet posted by Sika Official on Twitter further amplified the news of Kakai Shatta's arrest.
The tweet was captioned as follows, "A popular TikToker, known as Kakai Shatta, has reportedly been arrested by the police for defrauding people by pretending to be a disabled individual. Kakai Shatta was once hosted by Onua TV where he admitted that he was capable of walking and proved it. However, he wanted Ghanaians to sympathize with the disabled, hence his decision to act like one."
Source: www.ghanaweb.com