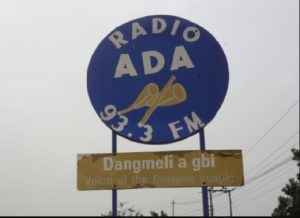 The Police has placed a GHS10,000 reward for credible information that will lead to the arrest of the suspects who vandalized Radio Ada at Ada Foah in the Greater Accra Region and held some of its staff hostage on Thursday, 13 January 2022.
The raid followed persistent warnings to the station by some chiefs in the area, to stop their broadcasts on a project being spearheaded by businessman Daniel Mckorley (McDan) which involves the Songhor salt lagoon.
The thugs, numbering about 10, according to some staff of the station, stormed the premises of the not-for-profit FM station at about 11:30 am on 13 January 2022 and wrecked the whole place.
The Police in a statement has urged the staff and the public to remain calm as they continue their investigations into the attack.
It said a team of intelligence officers from the National and Regional Headquarters are currently supporting the Ada Divisional Command to investigate the incident.
The Police said they will do everything possible to find those thugs and deal with them according to the laws of the country.