Pakistan is facing "a monsoon on steroids", the UN's secretary general has warned, after floods submerged a third of the country.
Antonio Guterres urged the world to come to Pakistan's aid as he launched an appeal to help the tens of millions affected in the disaster.
He blamed "the relentless impact of epochal levels of rain and flooding".
At least 1,136 people have been killed so far and roads, crops, homes and bridges washed away across the country.
On Monday, the country's climate change minister Sherry Rehman described the situation as a "climate-induced humanitarian disaster of epic proportions".
This year's record monsoon is comparable to the devastating floods of 2010 – the deadliest in Pakistan's history – which left more than 2,000 people dead.
Mr Guterres said: "Let's stop sleepwalking towards the destruction of our planet by climate change. Today, it's Pakistan. Tomorrow, it could be your country."
Many factors contribute to flooding, but a warming atmosphere caused by climate change makes extreme rainfall more likely.
CLICK HERE TO DOWNLOAD PRESS RADIOMOBILE APP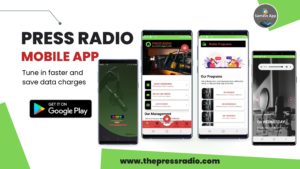 The world has already warmed by about 1.2C since the industrial era began and temperatures will keep rising unless governments around the world make steep cuts to emissions.