Owusu-Bempah attacks Stonebwoy over tax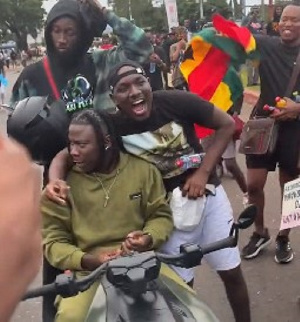 Ernest Owusu-Bempah, the Deputy Director of Communications for the
New Patriotic Party
 (NPP), has criticized Ghanaian musician 
Stonebwoy
 for his involvement in the recent #OccupyJulorbiHouse protest, accusing him of being paid to participate in the demonstration.
"They paid money to Al Jazeera, is this a story that involves the majority of youth, how many youth were part of it? For us, Let My Vote Count when we are doing a demonstration, we could mobilize over 500,000 people on the streets.
"How many youth were there… and just look at the needed publicity that the media has gotten, to the extent that they have paid certain journalists that they want to be part of this," he added.
Bempah went on to highlight the issue of tax evasion among some celebrities, implying that Stonebwoy was among those not contributing their fair share to the government's revenue.
He added, "Today, certain celebrities don't even pay taxes, they run businesses, go on shows, and do other things. If you like, let the taxman go to Stonebwoy's house to show him his tax documents, he will run, and these boys are the people who are going on the streets.
"If he was living in America and claimed he was a celebrity, the kind of taxes that he would pay, but he is in this country and has gotten the effrontery because someone is pushing him behind the scenes to go out there," Owusu-Bempah added, accusing Stonebwoy of pushing someone else's agenda for monetary compensation.
"He just woke up that he is going to the Jubilee House to do a demonstration all because he has been paid so he will go and push someone's agenda for him."
The protest, which was organized by the Democracy Hub and some concerned citizens, aimed to demand accountability from the government on various issues.

Source: www.ghanaweb.com