NPP Primaries: Ken stopped the balloting for November 4 – Ian Moore alleges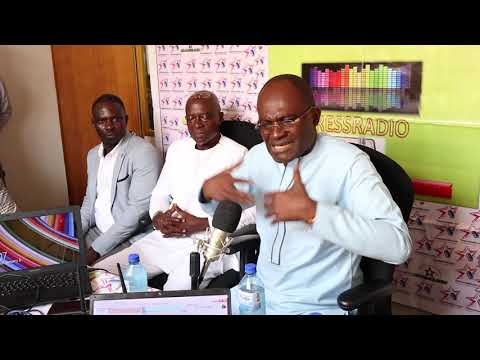 The deputy Ashanti Regional campaign coordinator for the
New Patriotic Party
 (NPP) flagbearer hopeful, 
Kennedy Agyapong
, Ohemeng Ian Moore, has disclosed the details of events that transpired during a meeting for the balloting of the candidates for the party's presidential primaries.
Speaking in an interview on Akoma FM on Wednesday, September 7, 2023, Ian Moore said that it was Ken who stopped the balloting for the positions on the ballot paper for the November 4 primaries from going on.
He added that Ken's objection was due to the fact that so many issues that came up during the party's Special Delegate Conference remain unresolved.
"The balloting did not come off today (Wednesday). Ken Agyapong banged on the table and said nobody was doing any balloting. The other candidates followed him except for one who was still seated.
"He stopped it because we are going for an election, but they have failed to resolve the issues that came up during the Super Delegates Conference," he said in Twi.
He added that the other thing Ken and some of the contenders were not happy about was a proposal by the party to allow members of parliament and government appointees to be agents in the November 4 congress.
"And you know, the other funny thing they said? They said MPs, ministers, and other government appointees could be agents for the candidates. This is the intimidation tactic they are trying to put in place. They want to use this to induce the people who come to vote."
The National Elections Committee of the New Patriotic Party postponed a planned balloting exercise for the successful candidates for its November 4, 2023, election to elect its flagbearer.
According to the Spokesperson for the Committee, Alexander Kwamena Afenyo-Markin, the meeting between them and the aspirants did not end conclusively.
Although the agenda of the day was to ballot for the positions of each candidate and to iron out some of the challenges they faced, it did not go as planned.
He stressed that the balloting had to be postponed because there wasn't a truce reached on the proposals raised by some of the aspirants.
He, however, did not indicate what those proposals were.
"The committee will issue its full report and, based on this, make the report known to the public after due consultations with stakeholders in the party," he said.
You can also watch today's GhanaWeb news headlines in Twi here
Source: www.ghanaweb.com