Nikki Samonas puts body on display, calls it a work of 'art'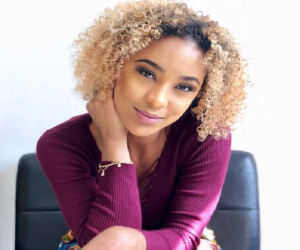 Ghanaian actress, Nikki Samonas, has recently celebrated her body as a work of 'art' by sharing a daring photograph on her social media platform.
In the Instagram post, Nikki was captured wearing a panty and bralette, confidently showcasing her figure from different angles.
The photo aimed to emphasize the proportions of her body, demonstrating her pride in her physique.
Accompanying the picture was a caption that read, "A work of art."
This bold act comes shortly after Nikki appeared on GHOne TV's late-night show, Duvet, where she openly discussed her personal preferences regarding sexual intimacy.
During the interview, Nikki revealed that she does not prefer sexual encounters with individuals who have large penises.
Instead, she expressed her preference for a more comfortable experience and emphasized the importance of being able to breathe freely during sexual activity.
To enhance her sexual experiences, Nikki shared that she regularly performs Kegel exercises, which strengthen the pelvic floor muscles.
These exercises offer added pleasure to her partners due to the varying sensations it produces during intercourse.
Nikki's candid statements and fearless display of her body on social media have sparked conversations among her fans and followers, empowering discussions around body positivity and sexual preferences.
It's evident that Nikki Samonas embraces her individuality and confidently celebrates her body, making a powerful statement about self-love and acceptance in today's society.
WATCH Our latest Episode with Kennedy Agyapong in South Africa below:
Source: www.ghanaweb.com