NDC shares list of banks and their losses in 2022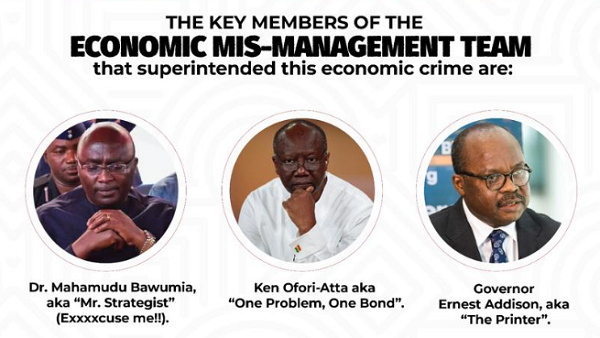 The National Democratic Congress (NDC) has slammed the Nana Addo Dankwa Akufo-Addo government over its claim that Ghana's economy is rebounding.
In a response to the 2023 Mid-Year Budget Review, NDC Members of Parliament accused the Minister of Finance, Ken Ofori-Atta, of lying to Ghanaians when he said the country had 'turned the corner' during his presentation of the review statement in parliament on Monday, July 31, 2023.
The Minority Chief Whip, Kwame Governs Agbodza, who shared portions of the minority's response to the government's review statement, wondered why Ken Ofori-Atta would say things are getting better.
He said that the government's claim cannot be true because the commercial banks in the country posted unprecedented levels of loss and the Bank of Ghana, which is supposed to regulate these banks is even insolvent.
"How could we have "turned the corner" with this level of losses posted by our commercial banks, the biggest of which was actually recorded by the central bank itself?
"Only the Economic Mis-Management Team below can answer this question. Turned the corner indeed!" he wrote.
He went on to share a supposed list of 23 banks in the country and the losses they incurred in 2022.
The banks include Absa Bank Ghana Limited, Access Bank, CAL Bank PLC, CBG, Ecobank, Fidelity Bank Ghana Limited, GCB Bank Plc and Zenith Bank (Ghana) Limited, which lost from GH¢1 billion to GH¢2 billion.
The remaining banks lost between GH¢100 million and GH¢800 million.
View the list of Banks and the supposed losses they made below:
How could we have "turned the corner" with this level of losses posted by our commercial banks, the biggest of which was actually recorded by the central bank itself?

Only the Economic Mis-Management Team below can answer this question.

Turned the corner indeed! pic.twitter.com/tB3vQ6PWcO

— kwame agbodza (@KAgbodza) August 2, 2023
WATCH Our latest Episode with Kennedy Agyapong in South Africa below:
Source: www.ghanaweb.com