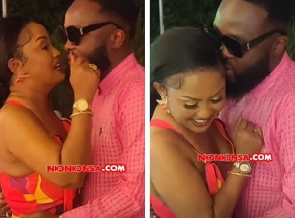 Ghanaian actress, Nana Ama McBrown and her husband, Maxwell Mensah, were spotted on the dancefloor at their friend's private birthday party in Accra.
Caught in a romantic atmosphere, the couple was all over each other on stage while dancing and grooving to the songs in the background.
At one point, they were seen having a conversation and Maxwell grabbed his wife close and whispered into her ear.
Although what he said wasn't heard, McBrown was seen blushing from ear to ear and filled with smiles.
Reacting to the video which has gone viral on social media, netizens have indicated that the McBrown's husband has activated a naughty mood.
"I just love this man, he just knows how to be romantic, people always complaining he doesn't smile n all that come n see how he is romancing his wife."
Ghanaian singer, Sista Afia who was also admiring the couple also commented beneath the post, "God when."
Check out the video and comments below:
Source: www.ghanaweb.com