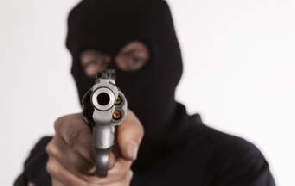 Police on Friday night gunned down one of the suspects involved in a robbery attack on a mobile money vendor near a public toilet in the Budumburam camp in the Central Region.
The suspected robber who was already on a police wanted list reportedly resisted arrest and attempted to bolt even after he was apprehended and handcuffed. This resulted in him being shot dead by the police.
The deceased suspect who has been identified as Kwame was already being pursued by the police over a dawn robbery attack on a mobile money vendor at Buduburam in the Gomoa East District, Citi FM's reporter Calvis Tetteh reports.
During an operation by personnel from the Central Regional Police Command to effect his arrest on Friday night, the suspect is reported to have vehemently resisted and physically wounded a police officer.
He was eventually overpowered and handcuffed but still attempted to flee causing the police to gun him down.
Background
28byear old Michael Anderson, a Mobile Money vendor, was shot by Kwame's robbery gang on December 30, 2022, at a public toilet facility in Buduburam.
The dawn robbery attack also saw the operator of the public toilet facility robbed at gunpoint.
Michael died on January 5, 2023, whilst on admission at the Winneba Trauma and Specialist Hospital.
Source: myxyzonline.com