Miss Teen Tourism World 2023 contestants explore Kakum National Park with a mix of anxiety and excitement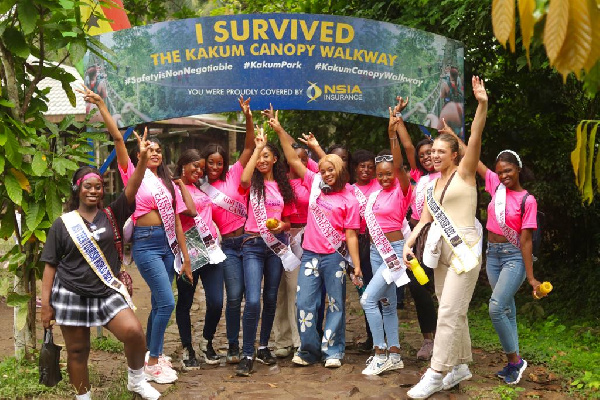 It was a thrilling adventure as contestants of Miss Teen Tourism World 2023 embarked on a tour of the renowned Kakum National Park in the Central Region.
Dressed in their bespoke pink t-shirts and paired jeans, adorned with their sashes, the teen beauty ambassadors embarked on an exploration of the park and iconic canopy walkway with an intriguing mix of anxiety and excitement.
Kakum National Park serves as evidence of Ghana's stunning beauty and rich biodiversity. This natural treasure stretches across lush terrain and provides a haven for both local wildlife and vegetation.
A highlight of the park is its renowned canopy walkway, showcasing human creativity. Here, visitors can stroll amidst the treetops, gazing down at the forest's vibrant life. Raised to impressive heights, the walkway provides a unique view, allowing glimpses of the world below. With each step, visitors harmonize with nature.
As the team toured some parts of the Central Region, the Kakum National Park could not have been excluded from the list.
Meanwhile, the contestants also visited The Ghana National College, a school founded on July 20, 1948, by Ghana's first president Osagyefo Dr. Kwame Nkrumah. The establishment of the college was funded by Dr. Kwame Nkrumah himself and stemmed from the drive for Ghana's liberation from colonial governance.
Miss Teen Tourism World 2023 is being held in Ghana between August 1 and 20.
WATCH Our latest Episode with Kennedy Agyapong in South Africa below:
Source: www.ghanaweb.com