Meet Yahaya Subaru: The first Ghanaian to drive from Ghana to Sweden in 2007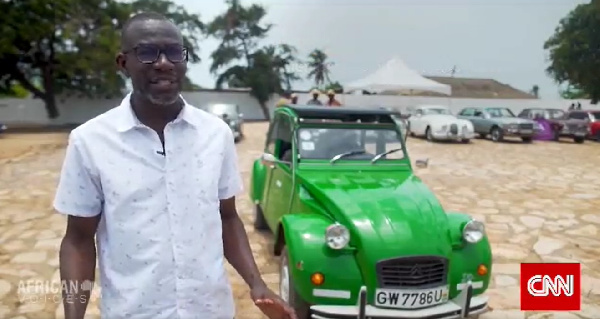 Yahaya Alpha Suberu, a filmmaker and University Lecturer at the Ghana campus of New York University, achieved a remarkable feat in 2007 by becoming the first Ghanaian to undertake a road trip from Ghana to Sweden.
The idea to travel from Ghana to Sweden was born during Alpha's first visit to his family in Stockholm. Inspired by the city's beauty and tranquillity, he expressed his desire to return by road during an evening stroll with his brother and uncle.
Alpha was also inspired by the celebration of Ghana's 50th anniversary in 2007. According to him, he wanted to let the world know the 1st African country to attain independence from its oppressors.
His journey was particularly unique as he completed the 11,677km distance in a 1986 2CV Citroen (602cc), a compact economy car from the French manufacturer Citroën.
The voyage commenced from the Independence Square in Accra and culminated in Sergels Torg, Stockholm. Despite the convenience of air travel, Alpha's determination led him to embark on this extraordinary road trip.
The journey spanned 24 days and covered nine countries. The considerable distance and diverse terrains demanded significant amounts of petrol, totalling over 900 litres.
Because there was no Google map or smartphone by then to aid him in navigating through the journey, Alpha had to buy a Michelin map of West Africa, North Africa, and Europe.
Alpha encountered various challenges on his voyage, at one point his gearbox broke down in Mauritania and had to spend 6 days searching for a replacement.
With a limited amount of money, he sometimes slept outdoors and on one occasion, he slept in the cold desert. Unlucky for him, the wind blew off his tent and he had to sleep bare-chested in the cold.
Above all, Alpha noted that he was determined to maintain his integrity by not greasing the palms of corrupt officials who wanted bribes from him at the borders.
Although this was not shared on social media then, Alpha's remarkable achievement was celebrated by fans who welcomed him at the Kotoka International Airport after hearing of his story in the media.

Yahaya Alpha Subaru in 2007 after completing his journey
He managed to ship his car to back Ghana and still has it to date.
In a world increasingly reliant on technology, Alpha's journey stands as a testament to human resilience, resourcefulness, and a spirit of adventure.
Read the original story from 2007 below:
ACCRA TO SWEDEN BY ROAD
Yahaya Alpha Suberu is a commoner by birth with unflinching determination for exceptional accomplishments. The gentle and focus-looking 32-year old Alpha is a filmmaker and University Lecturer at the Ghana campus of New York University.
He has just returned from an 11,677km road trip to Sweden. The strenuous trip took him 24 days and more than 900 litres of petrol. It took him three years for him to decide to swim against the tide when he drove his car, a 1986 2CV Citroen (602cc) from Accra all the way to Sergels Torg, Stockholm in Sweden. This is a journey that would take a person only 7-hour flight to reach.
Background
Alpha is the last of seven children of his parents. Born at Pig farm in Accra, he rose through basic school, dotted his O-level at the Presbyterian Secondary school (Presec), Legon and completed his sixth form at Akyem Swedru School. He has taken every opportunity thrown at him to obtain cognate experience. He exuded natural intelligence when he quit his flourishing distribution company, White Lynk in 1999 to augment his intellectual formation at the National Film and Television Institute (NAFTI). His meteoric rise at the institute compelled the authorities to retain him to exploit his exceptional services under the auspices of the National Service scheme in 2003.
The Idea
Upon completion of his service at the institute as a Teaching Assistant, he thought a visit to his uncle Suberu Salaam and brother Salaam Suberu in Stockholm would be a fantastic and rejuvenating experience.
In Stockholm he admired the beautiful streets, and the city's tranquility that endeared him to rethink of a second visit. He told his brother "I would like to come back here again. It's a beautiful place but this time I'd come by road". He said this when both went for a walk on one of the streets in Stockholm in the cool of the evening. His brother and uncle had thought cynical of Alpha's idea of a road trip from West Africa to Europe.
Preparation
On his return from Sweden in 2003, he considered the reasons for him to desire such a road trip. "Driving is my passion. I love to drive" he confessed slyly. Alpha obtained his driver's license in 1993, so, he thought it would be fun to mark his 10th anniversary of driving with the road trip experience.
He commenced researching into the type of car that could serve a long trip as this. He saved a great deal of money towards it. While on a trip to the United States, he bought a Michelin map of West Africa, North Africa and Europe. With his knowledge of map reading, he estimated the journey from Accra to Stockholm to be 11,200km.
Alpha had contemplated that the robust, desert-friendly and high powered engine features of a Nissan Patrol will be just okay for the trip. However, the NAFTI graduate could not execute his planned trip in 2006. Uncompromising in choices, Alpha did not allow the few bottlenecks to deter him.
He recalls meeting one Osmo Pohja from Finland at the Krokrobite Beach. Osmo had himself had a road trip from Finland to Accra. Alpha asked Osmo what kind of vehicle could do a road trip of such magnitude. Osmo withdrew a piece of paper from his pocket and sketched a 2CV Citroen for Alpha. "I remembered spotting a German guy using the same car at Pig farm. I went there and made the man an offer for the car" he admitted politely. He had gone as far as Togo to purchase a shaft for the car.
He chose to make the trip this year as part of his personal contribution to the nation's 50th anniversary, and to know other countries' perception of his motherland, Ghana. On Saturday, 23rd June, a couple of friends and relatives including Dr. Mustapha Ahmed, MP of East Ayawaso gathered at 'On the Run' at 37 to bid Alpha farewell on his journey.
On the road to Stockholm
On a patriotic note, he decided to take off from the Independence Square in Accra. He was equipped with the green 2CV Citroen (602cc) car adorned with Ghana flags (with registration number GW7786U), tool kit, five gallons of engine oil (courtesy of Mintah Gyampo Ventures, representatives of COMMA car care products), first aid box, two extra tyres, 30-hours of musical audio CDs, mat, garri, shito, chocolate drinks, biscuits, and a mobile phone with roaming facility. He also had with him a letter of introduction from the Ministries of Tourism and Foreign Affairs.
With the warm blue Atlantic Ocean stealing out of his sight as he drove away from the Independence square, Alpha was in the dilemma of the nostalgic memories of Accra and his raw determination to arrive in Stockholm by every means.
He drove his little car through Burkina Faso, Mali, Mauritania, and Morocco where he took the ferry across the Straits of Gibraltar to go through to Spain. From Spain, he went through France, Belgium, the Netherlands, Germany, and Denmark from where he crossed Ostersundsbron to enter Sweden. He resolved not to pay a single bribe to any official on the course of his expedition. And he did!
Naturally, Alpha had exhausting challenges on the road. One of which is when he had to drive after an STC bus in Tamale following an inclement downpour that blurred his windscreen. He recalls "it became very challenging for me when my gear box broke down in Ayoun, Mauritania. It took me seven days to find second hand one which I bought for €110." This gear box could not guarantee him smooth journey as it broke down again in Morocco. He finally fixed the problem with €200 gear box.

When he opened his car bonnet in the desert
He also had to make detour of 120km in Mauritania to get a special permit to be able to cross the densely fortified military zone from Western Sahara into Morocco. There were times when he had to adopt 'trial and error' approach to fix things for himself on the car. His car broke down on Atlas Mountain in Morocco. Another time on a meandering road in a sunny and windy desert in Mauritania, he opened the bonnet to fix a problem when heavy wind blew and splashed hot sand on the engine.
Again, at the border between Mauritania and Morocco, a chill but strong wind blew his tent off at night. "It was really cold out there and I was lying flat like a piece of cloth under the broken tent" he grinned. He was delayed several times at the borders of some countries. Officials demanded for bribe but he would not give. Delays were his consequence when he refused to grease their palms.
When people looked at the strange registration number and the flags on the car, some easily recognized Ghana as a country with great footballers, while some others would say 'it's a clean country, peaceful and its people are friendly.' As a Moslem, he made several stops at mosques to say his prayers. "At the desert where there were no mosques I prayed on my mat. Such times offered me time to rest."
One unforgettable experience was when he saw emaciated boy feeding on carcass of an animal about 250km from Bamako in Mali. "The boy had long limbs and just a flesh on a skeleton. He could probably pass for a man." On his first night in Spain, at a filling station, he witnessed three men drove off in a Mercedes Benz car leaving a couple they had just robbed bloody and helpless at midnight. Out of fright, Alpha could not rest that night there, so, he proceeded at 3.00am.
In France, about 30km to Paris one of the two plugs in his car got bad. Fortunately, he saw a towing truck carrying the same make of his and trailed it. The truck's driver was kind and pulled one of the plugs for him, and also offered him a shelter for two days. There were curious people in every town he reached, many of whom took pictures with him and his little car. He arrived in time to attend a world meeting of 2CV Citroen lovers taking place in Borlange in southern Sweden. The meeting is organized bi-annually. 29 countries were represented with Alpha been the only African and Ghanaian. At the meeting, he was awarded as the only person to have had the longest trip with Citroen. He appeared on the front pages of local newspapers.
Life after Trip
He flew into Accra on Thursday, August 16. A throng of fans welcomed him at the Kotoka International Airport with several of them wearing T-shirts with his photograph on them.
Currently, Yahaya Alpha is studying for his Masters degree in Communications at the premier University of Ghana, Legon. He is saving money to ship his 2CV Citroen car back to Ghana. Having achieved this admirable feat that perhaps any African has taken in the last 50 years, he is definitely a man who does not believe in impossibilities.
Alpha's track record right from his time at the Information Services of the Ministry of Information, NAFTI and New York University, explains that integrity does not come by chance; it is a matter of personal choice and value. He has portrayed the depth of his patriotism by choosing to showcase Ghana to the 11 countries he transited through to Stockholm.
WATCH Our latest Episode with Kennedy Agyapong in South Africa below:
Source: www.ghanaweb.com