Meet the manager behind Dr. Likee's success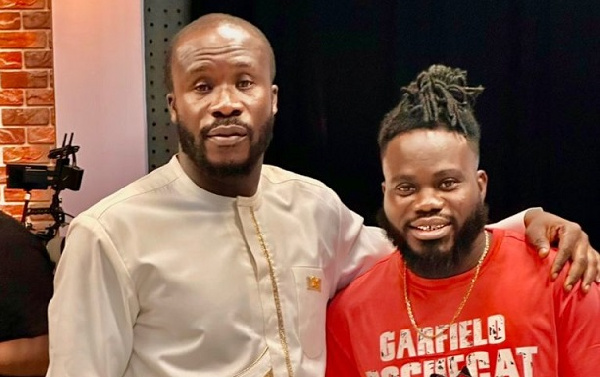 In the dynamic world of entertainment and celebrity endorsements, the role of a skilled and dedicated manager cannot be overstated.
One such remarkable manager is Daniel Kwasi Agyei, also known as Okodie Gh, who has done a perfect job in the shadows to make Dr. Likee one of the most acclaimed actors in the Ghanaian entertainment industry.
The story of Okodie Gh's and Ras Nene's journey together began in 2018. Agyei recognized the untapped potential and unique charm that Ras Nene possessed while on set for a friend's production, and since that time, he has successfully turned Ras Nene into a multi-dimensional celebrity figure.
As a manager, Okodie Gh has orchestrated a series of impressive brand ambassadorial deals for the famous Ghanaian actor Ras Nene, famously known as Ackebenezzer.
Since the inception of their collaboration in 2018, he has masterfully guided Ras Nene to secure numerous prestigious partnerships with renowned companies, solidifying his status not just as an actor but also as a sought-after brand ambassador.
Agyei's ability to think outside the box led Ras Nene to even more groundbreaking partnerships. The real estate sector witnessed Ras Nene's charismatic influence as he became the face of reputable real estate companies, helping bridge the gap between the industry and the masses.
Additionally, Agyei's keen market insight led to Ras Nene's collaboration with prominent betting brands, tapping into the burgeoning online betting market in Ghana.
The success stories of Daniel Kwasi Agyei, fondly known as Okodie Gh, and Ras Nene, the beloved Ackebenezzer, stand as a testament to the power of visionary management and strategic brand partnerships.
The diverse array of brand ambassadorial deals, ranging from technology to real estate, speaks volumes about Agyei's ability to identify unique opportunities and align Ras Nene's persona with the essence of each brand.
The journey exemplifies how a well-crafted synergy between talent and management can create a ripple effect, benefiting both the celebrity and the brands they represent.
Source: zionfelix.net