We are not kids, Sarkodie lied! 'Try Me' was not leaked – Mr. Logic fires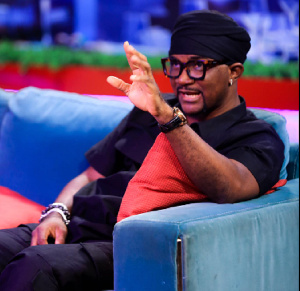 Radio show host, Mr. Logic has dismissed a claim by Sarkodie that his most recent track 'Try Me' was leaked and that it did not have the buy in of his team and allies.
Speaking on the July 22 edition of UTV's United Showbiz programme, Mr. Logic said it was time Sarkodie apologizes to Yvonne Nelson, who the Try Me track was directed at.
"He apologized because it had to do with a woman, if it was a man, he would have defended his view. He has yet to speak on the matter here at home… when it started, he should have spoken and cleared the air," Mr. Logic explained.
He weighed in on the issue of the track being a 'personal' project and that it was leaked, Logic said the musician should come again.
"But to tell us his team did not know of the track and he sneaked out to record it and all. He is too big for such trivial information because of his brand and its implications… he should have apologized from the onset.
"Sark messed up, he has accepted that he was wrong, he owes Yvonne Nelson and womanhood. That the song leaked was a lie, it did not, we are not kids," he fired.
Sarkodie made his first comments on the whole Yvonne Nelson episode where he was chastised for heavy handedly hitting at Yvonne because of contents in her memoir about their previous relationship which resulted in her aborting his baby.
The musician who is currently on tour spoke to an American YouTube TV channel in the 'no-holds-barred' chat.
Source: www.ghanaweb.com