List of music geniuses you may not know contributed to the making of 'Cobra' song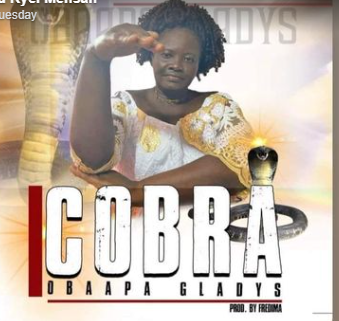 Open up any social media platform and you will be greeted with the familiar sound of Obaapa Gladys' "Nipa Ye Cobra", coupled with people engaged in a hilarious dance move to signify a cobra.
"Cobra," originally recorded on December 14, 2022, features Obaapa Gladys as the lead vocalist. The instrumentals were crafted by producer Fred Kyei Mensah, with Ellis Ellis adding his magic to the guitars. Arrangements and final mixing were handled by Flash Da Sikk Beatz and Stephen Kwesi Essel, also known as Papa Sax. This song came to life under the guidance of Fredyma Studios.
Though initially released in early 2023, "Cobra" lingered in the background until late September, when it unexpectedly surfaced on the popular social media platform, TikTok. Almost instantly, the song garnered widespread attention, even sparking a viral challenge that saw celebrities like Shatta Wale enthusiastically participating.
But what does the song mean? The producer of the song, Fred Kyei Mensah explains.
In a post on his Facebook wall, Fred Kyei Mensah gave a speed run through his studios, providing a narration of how the song was made, including adding that the lyrics had only 70 words.
He further explained the meaning behind the song, stating that it stemmed from how humans behave towards each other. And how one person's utterances can damage the reputation of an innocent individual.
"Sometimes the person you're working with can be very wicked; someone can say just one word and ruin your life. There are many people in our prisons who are locked up there because of what someone said about them, The lyrics of the song, although funny, should be taken very seriously," he said.
As the song takes the airwaves, it has proven to be relatable to many, including being used as a trolling mechanism in the controversies surrounding the NPP presidential primaries.
Source: www.ghanaweb.com