Libya floods: Flooded city buries its dead in mass graves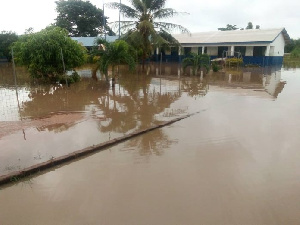 Bodies recovered from a devastating flood which wiped out parts of the port city of Derna in eastern Libya have been buried in mass graves.
At least 2,300 people died when a tsunami-like river of floodwater swept through Derna on Sunday after a dam burst during Storm Daniel.
A mechanical digger worked in a cemetery where victims wrapped in body bags and blankets were buried together.
With 10,000 people reported missing, the death toll is expected to rise.
Mohammed Qamaty, a volunteer in Derna, said rescue workers were still searching for victims.
"We call on all the young Libyans, anyone who has a degree or any medical affiliation to please come and help us," he told Reuters news agency. "We have a shortage in nurses, we need help."
Some aid has started to arrive, including from Egypt, but rescue efforts have been hampered by the political situation in Libya, with the country split between two rival governments.
The US, Germany, Iran, Italy, Qatar and Turkey are among the countries that have said they have sent or are ready to send aid.
Water engineering experts have told the BBC it is likely a dam around 12km (eight miles) from Derna failed first, sending its water sweeping down a valley and overcoming a second dam which lay closer to the city.
Video footage recorded after dark on Sunday shows a river of floodwater churning through Derna, a city of about 100,000 people, with cars bobbing helplessly in the current.
Daylight revealed ruined neighbourhoods with streets covered in mud and rubble, littered with upturned vehicles.
There are harrowing stories of people being swept out to sea, while others clung onto rooftops to survive.
"I was shocked by what I saw, it's like a tsunami," Hisham Chkiouat, from Libya's eastern-based government, told BBC Newshour.
Eastern Libya's health minister, Othman Abduljaleel, told the Associated Press by phone from Derna: "We were stunned by the amount of destruction… The tragedy is very significant, and beyond the capacity of Derna and the government."
The cities of Soussa, Al-Marj and Misrata were also affected by Sunday's storm.
Libya has been in political chaos since long-serving ruler Col Muammar Gaddafi was overthrown and killed in 2011 – leaving the oil-rich nation effectively split with an interim, internationally recognised government operating from the capital, Tripoli, and another one in the east.
But despite the split, the government in Tripoli has sent a plane with 14 tonnes of medical supplies, body bags and more than 80 doctors and paramedics.
Derna, about 250km east of Benghazi along the coast, is surrounded by the nearby hills of the fertile Jabal Akhdar region.
The city was once where militants from the Islamic State group built a presence in Libya, after Gaddafi's fall. They were driven out some years later by the Libyan National Army, forces loyal to Gen Khalifa Haftar who is allied to the eastern administration.
The powerful general said eastern officials were currently assessing damage caused by the floods so roads could be reconstructed and electricity restored to help rescue efforts.
Source: bbc.com