'Let the gays breathe' – Gay British-Nigerian pastor reacts to arrest of suspects at same-sex wedding in Delta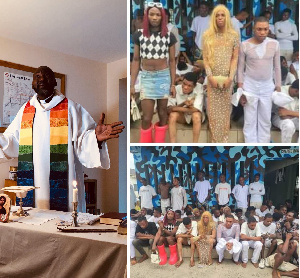 Openly gay British-Nigerian pastor, Jide Macaulay has reacted to the arrest of more than 100 suspected gay men at a wedding ceremony in Delta state.
The police command in the state arrested the suspects during a midnight wedding ceremony of a gay couple held in a hotel in Warri – they were paraded afterward.
Reacting to the arrest via his official Instagram page, the Chaplain at St. Peter's House, the chaplaincy of Manchester's Universities, said that the LGBTQ community is not a threat to the nation.
"Recent reports from Nigeria reveal the arrest of around 100 individuals at a supposedly same-sex wedding event,' he wrote.
"This incident highlights the restrictions on gatherings and social interactions for queer individuals in Nigeria, prompting concerns about the increasing challenges faced by the LGBTQ+ community. The Same sex Marriage Prohibition Act ban marriage, not socialisation.
Rather than addressing genuine security concerns, these actions seem to exacerbate the difficulties experienced by LGBTQ+ people. It's important to recognise that the LGBTQ+ community is not a threat to the nation; their desire is simply to live without interference.
"Redirecting law enforcement resources toward addressing insurgent activities and preventing hate crimes could be a more effective use of Nigeria's police forces.
"The prevailing perception of corruption and brutality within the Nigerian police raises concerns about their understanding and application of the law.
"It's crucial to note that the existing anti-gay legislation primarily aims to prosecute same-sex relationships and intimate encounters, rather than social interactions."
"Allowing LGBTQ+ individuals in Nigeria to live openly and peacefully should be a priority.
"The anguish expressed by the LGBTQ+ community resonates deeply, as they navigate an environment marked by hostility and anxiety.
"In this challenging time, I express my solidarity with LGBTQ+ Nigerians, both within the country and beyond its borders."
Source: www.mynigeria.com