Leaked tape probe: 10 top allegations IGP Dampare dispelled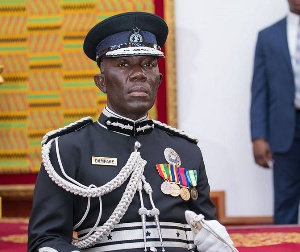 Inspector-General of Police (IGP) George Akuffo Dampare appeared before the Parliamentary Committee probing the leaked tape in which some colleagues are allegedly plotting his ouster from office.
The Samuel Atta Akyea-led Committee (September 12) fielded questions to the IGP in the presence of three earlier witnesses – COP Geroge Alex Mensah, Superintendents George Asare and Gyebi – even though his legal team had initially argued that the trio should not sit through the IGP's testimony.
After a back and forth, the Chairman overruled the objection with the view that their presence was not in any way going to be injurious to the IGP and that they were not, neither were their lawyers going to at any point interject.
Dampare flanked by his lawyers and with the support of senior management of the Ghana Police Service eventually accepted to give his testimony.
When Atta Akyea fielded the first question about whether Dampare had heard the tape in question, he responded:
"Hon. Chair thank you and thank you to the members of the Committee. I will like to say that Hon. Chair, if you would permit me, I will like to make a few opening remarks. Hon. Chair, there have been a lot of issues about my person and I will like take the opportunity to speak to a few of them, for about the next three to five minutes…"
The three-to-five-minute remarks eventually travelled 20 minutes of uninterrupted explanations, clarifications, debunking, redirecting and straightening of facts and allegations that had been made about his person and the police service under his leadership.
Later, he took questions from other members of the committee on a range of issues that had been alleged against him.
"Honourable chair, I am here, being asked to answer to wild, unsubstantiated allegations by my brothers, in order to cover up their shame, I am ready, I thank you," were his closing remarks before members of the committee started fielding questions.
GhanaWeb picks the top 10 issues Dampare spoke to
1. Police Service relationship with Bugri Naabu?
"We have no dealings or contract with him [Chief Bugri Naabu]."
2. Meetings with John Mahama
"It is falsehood. I don't visit John Dramani Mahama, or does he visit me. These are just another set of allegations to make it seem I am a policeman who is involved in politics. I am a professional police officer and I don't engage in such acts."
3. Worst IGP tag
"If anybody comes to say that 'you are the worst IGP' is unfounded, it's unfortunate and I think the best the person could have done if he has nothing to say is probably keep quiet and allow the good people of this country to make a determination on us.
4. Running a one-man show:
"It is not about Dampare, it is about the police administration. The Police is not a sole-proprietorship, it is an institution with governance and management structures.
"Dampare is just one of the officers involved in the governance of the management structure. So that is what it is. We work in concept and make sure that all decisions that we need to make we take as a group. When it needs the attention of the Police Council we get that as well," Dr. Dampare stated.
"That is the level of team work that we have brought to bear on the work that we do. So it isn't about Dampare, it is about an institution that we have decided to work together with.
5. Product of political lobbying
"In terms of my ranking in the police service, it has been purely based on my competencies, academic qualifications and hard work because of the passion I have for the work. I have not at any point in time been called aside by any individual and granted me any favour that I do not deserve.
"In terms of positions I have held, I have been virtually across every command within the service, and at a point because of my commitment to work, I was handling multiple schedules at the national headquarters.
"This is because if you give me a work, you just have to consider it done because that is me I get things done and I work around teams to get them done on the basis of Genesis 1:26," he added.
6. Behind recording and leak of viral tape?
"Hon. Chair, that is not true," he responded to a pointed question on whether he contracted Bugri Naabu to record his colleagues subsequent to which he leaked same.
In an earlier submission he stressed: "My brothers we were given the opportunity to come and speak (of the leaked tape) and made the indication that they are involved and all of a sudden instead of them focusing on that, they come out with wind allegations.
"Wild allegations that touch my person, the police leadership that I lead and the entire police service without a shred of evidence," he said.
7. Recused myself from interdiction process
"I was not part of whatever decision that was taken to interdict or de-interdict anyone. It is a matter that was considered by the Police Council and they handled it in my absence," he said.
"That is also another thing that people have used to try to get to me. The truth of the matter is this when all these things happened, while we were focused on ensuring that we worked as a team across the country and also across all the other security agencies to continue to maintain peace and security for our beloved country, then you get to a point and these things happened.
"You feel pained that your own brothers can go and do this against you. But you forgive because such is nature and the more you forgive the more you become stronger and preserve your health. So, I moved on but I said that whatever was going on, I recused myself from the process," he added.
8. IGP cannot decide who becomes president
"Election is a simple matter where each stakeholder plays its role and collectively we end up ensuring that it is over. The people then decide who becomes their leader," Dr. Dampare stated.
According to him, "So nobody has some supremacy when it comes to its role in ensuring that elections are successful. As far as I am concerned all the stakeholders have to play their role and the point is that because each is unique you cannot even compare to say which is on top and which one is not.
"As far as I'm concerned all the stakeholders have critical roles to play in ensuring that elections are successful. When we all play our roles the people who have the right to vote will then determine who becomes the leaders."
9. Indiscriminate targeting of politicians
"I work in collaboration with my Officers at POMAB and Commanders nationwide.
"While it has been alleged that I have a tendency to apprehend Politicians for traffic offenses, it is important to clarify that I am not personally involved in any arrests. People are apprehended in accordance with the law by the respective Officers, not by me," e stated.
10. Withholding promotions
"Honourable chair, if I may say something slightly on that matter because I was going to add a little thing in respect of that question. Because my brother did refer to the privilege I had benefitted from that.
"But the most important thing is that I will be the last person and the very last person to deprive anybody of his promotion. I can't even think of that," he said.
"My colleagues who worked with us in the context of the appointment and promotion board, cannot even think of that. We work as a team," he noted
Source: www.ghanaweb.com