Kanayo O Kanayo spurs history with video of old Nigerian, Biafran currencies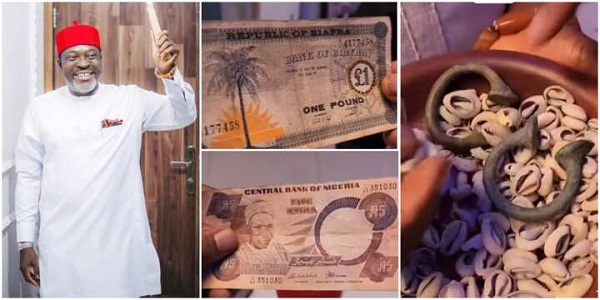 Nollywood legend Kanyo O Kanayo has revived his fans' and followers' thoughts with ancient Nigerian and Biafran money in his possession.
The talented actor posted a video of several currency notes from the Biafran War and a time when Nigeria was still using pounds before the introduction of the Naira note on social media.
To remind people of his origins' history, Kanayo said that the currency had been in a safe box for a very long period.
He also displayed cowries and an unusual coin known as iron money (Ego Igwe), which was primarily used in royal marriages.
See some reactions here
_gadget_shop_22: "Get your desired new and used phone here at affordable price ."
josie_de_xii: "My dad had lots of these but the moment we found them while growing up, we scattered everything ."
alexxekubo: "Nna anyi Riiri, na old money be the new update? Make I go scatter my papa cupboard."
kachiode: "Custodian of Nigeria currency."
valiant.lift: "Bro I met and spent 25 kobo and also spent 1 naira coin…..how old you be wey you no go know 5 naira and 10 naira ."
See his video below
Source: www.mynigeria.com