It's a big problem if a manager wants to be bigger than his artiste – Fameye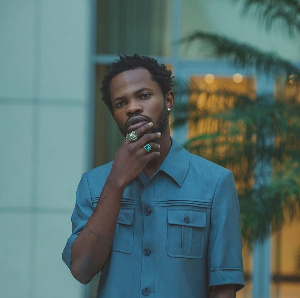 Ghanaian rapper, Peter Famiyeh Bozah, popularly known as Fameye, has defended his statement about managers who want to be bigger than their artistes.
In a post on his X (formerly Twitter), on August 14, 2023, the 'Nothing I Get' hitmaker cautioned his colleagues against managers who want to be superstars in place of their own artists.
"If you are an artiste and your manager wants to be a superstar than you? Be careful, is either you signed a wrong deal or a Devil came in a form of an angel," he warned.
Speaking to Andy Dosty on Hitz FM on Thursday, August 17, 2023, Fameye reiterated his comment, stating that it was born from his own experiences as an artiste.
"It was something I wanted to say, it is something that some artistes are going through and I've been through that before. When I tweeted it, a lot of artistes were in my dms cause they liked what I did but they couldn't say it. I was the one who could say it because when it gets to my turn, I can say it. And it was something I had to talk about because boys are going through it.
"We all have to make money and shine together but you see, if I am your product and you're pushing me, it is fair that you push me with everything because if I am going, you are also going. But I have been to the camps of various artistes and I have seen people like that. I have seen cases where the managers want to be bigger. It is a big problem," he said.
He also explained that it would be difficult to sign another artiste under his label.
"As for me, I can't as an artiste work with another artiste. Because there will be a competition. I can do that if I have gotten to a position where I have a big record label, but to sign an artiste who is on the same level as me. We can't be doing the same work and be struggling, it will be problematic," he added.
If you are an artiste and your manager wants to be a super star than you ? Becareful, is either you signed a wrong deal or a Devil came in a form of an angel????

— Fameye (@Fameye) August 14, 2023
Source: www.ghanaweb.com