How Mbappe allegedly plotted Neymar's imminent departure from PSG – Report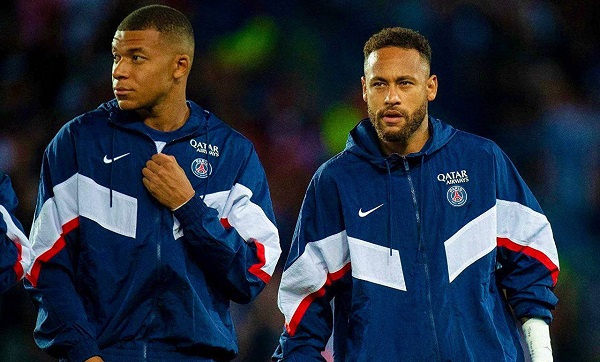 Brazilian Superstar, Neymar Dos Santos Jr is close to ending his five years stay at Paris Saint Germain(PSG) with an imminent move to Saudi Arabian side Al Hilal.
A report by Brazil outlet Globosport claims that French international and World Cup winner, Kylian Mbappe played an uncanny chess to get PSG to put Neymar up for sale.
He allegedly contracted some social media personalities including John Honesty who is known by his handle @ExJohnHoonestyy set an agender about his eagerness to leave the club.
The report indicates that Mbappe's objective was to help push Neymar out of the club and have Dembele replace him.
Mbappe after spending most of his summer training alone following his refusal to extend his deal as returned to full training a few days after the club announced the signing of Ousmane Dembele from Barcelona.
John Honesty's account has been deactivated after Neymar's move is close to being done and Mbappe resuming training after agreeing to discuss a contract extension following Dembele's signing.
Neymar, on the other hand, is one step away from completing his move to Suadi Arabia side Al Hilal.
During pre-season, Paris Saint Germain omitted Mbappe from their pre-season squad after talks to extend his contract hit snug.
According to reports by the French media, PSG suspected that the 24-year-old had agreed on a deal to join Real Madrid on a free transfer.
Mbappe signed a three-year deal with PSG during the 2022 summer transfer window. The Frenchman signed a contract of two years with an option to renew for another year, SkySports claims.
He was set to be available to begin talks with clubs in January 2024, after PSG failed to trigger the extension clause.
The failed talks led to him missing PSG's opening game of the season against Lorient but his return means he is set to extend his deal.
WATCH our latest episode below:
WATCH Our latest Episode with Kennedy Agyapong in South Africa below:
Source: www.ghanaweb.com